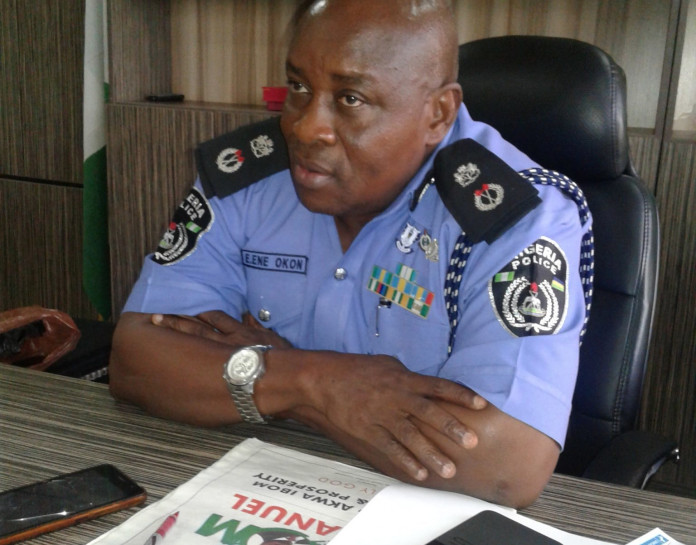 The Benue State Police Command has arrested a dismissed police officer, one Mohammed Shehu in connection with car robberies in Makurdi.
Speaking to the Next Edition at the Command headquarters, the Police Public Relations Officer (PPRO) DSP Catherine Anene said Shehu was arrested in Makurdi after several months of surveillance on him.
According to her, Shehu is a notorious gang leader responsible for most of the stolen cars parked at car parks and market places in the state particularly at Modern market, Makurdi.
The suspect, a 40 year old and a dismissed police corporal was arrested within the week with a stolen Toyota Camry, alongside master keys, plate numbers, text books and other items recovered from him belonging to people who were either robbed of their vehicle or those stolen from where they were parked.
READ ALSO: Police Arrest 50 Suspects In Edo In 3 Weeks – CP
DSP Anene, said the suspect will be charged to court after investigation, describing the suspect as a serial liar who has refused to own up despite investigation and evidence indicating he actually stolen items recovered from him.
Meanwhile the suspect, Mohammed Shehu has denied the allegation saying the vehicles belong to his younger brother, Mustapha Mohammed, who was killed a month ago in Kogi state.
He said he did not steal the car and would not have been driving it right inside Makurdi town if he had stolen the vehicle.
But the police say that Mustapha, his younger was into similar crime but met his Waterloo when he attempted to steal a car and was mobbed to death in Kogi.
The PPRO however, called on the public to trust the police with information to help nip crime in the bud, particularly this festive season.
Anene who warned against the use of fireworks, said more police officers have been deployed on the field to ensure the protection of life and property, adding there will be less police check points on the road, this time around but not entirely off the road.