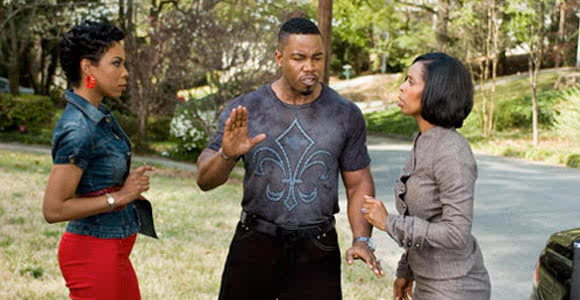 Recall when society frowned at young girls having children out of wedlock in Nigerian society? Fast forward to these days where people rarely blink an eye when they hear that so so and so has given birth for a man she's not married to and sometimes not even dating/courting. Just may be on the spur of the moment! Not to judge anyone for their decisions because we honestly cannot account for what others do or their reasons behind each action.
But come to think of it, the baby mama phenomenon has taken root in Nigeria in the last few years especially in Nigerian pop culture domain. It's almost a thing to be celebrated now especially if the man you gave birth for is a celebrity. Oh, sorry, they call it "Celeb"!
Again speaking in broad terms, can you blame anyone for either intentionally or unintentionally going through this? With the rate at which marriages are crashing these days, most women are content to have this title and be done with it. After all, you can't fail at what you didn't try, right? If you don't get married you can't fail at it. To them, the hassle and stress are less. What more can any babe ask for?You get a kid and most times the financial support and that's that.
But let's look at it critically, as much as it is possible without being judgmental; there's the baby mama that is a girlfriend or intended; there's the baby mama that was a girlfriend but had a falling out and now baby's here but they are no longer together. And then there's the 'mistake', the one that was a one-night stand. Sorry, quickie! No matter the circumstances a baby is the result and ready or not, you and an either present or absent baby daddy is responsible for a life. Gbam!
So let's look at some of our local celebrities that have baby mamas regardless of the situation with the mothers.
Tuface – I think he kind of paved the way for this or at least he was the one we knew about the most; candidly talking about the current generation. He has two baby mamas at the count with five kids between them. Actually, he had three, but he converted one and conferred on her the wifey status. He has been classy about the situation and we will want to believe he is father financially to all of them. He, however, in an interview with PUNCH newspaper said "It is really tough to talk about it. Honestly, when I look back and examine that aspect of my life, I wish it never happened. I wish all my kids came from one woman. I love my children and there is nothing I can do to change the situation. I have moved on and I am married to one of the women who bore me kids. I no longer dwell on that issue." Those kids are all beautiful and doing Real well at their levels; it's fun and beautiful to see.
D'Prince – This one was the one that some people were shocked to hear because we didn't see a girlfriend. There was nothing on his social media at all to suggest that someone somewhere was dying for him! We think he's dating the girl in question and he still keeps his personal life off line and that's cool. She gave birth to a son in the US in January 2015 and we are yet to see a picture of the boy.
Olamide – We all knew about this one. In a recent interview with Andre Blaze, he admitted he may not marry his baby mama who was a longtime girlfriend. He, however, concluded "I'm just trying my best to be a great father and a responsible man." That's a very admirable sentiment and we can for sure get behind that. Or perhaps, it's another story for the gods!
Wizkid – At the moment, he has two baby mamas who gave him two sons. Did anybody say too soon? Nope! The general consensus is that he is doing very well in that department! It is unclear if he has any sort of relationship with the mums and the second one he still hasn't fully accepted her and the child. We are sure there is a story behind this but we are not privy to it. Pump up the music guys! It's W-I-Z-K-I-D!
Davido – He recently welcomed another baby girl in Atlanta, USA with his American girlfriend, Amanda .. As is with these relationships, It's rocky one day and stable the next. His first daughter was from Sophia, Dele Momodu's niece and we all know the drama that ensued after that, the song he waxed for Bob Dee and so on! Just that recently, his friends are dying!
Timaya – He has one baby mama, Barbara, who has two girls for him – Emma 5 years old and Grace two years old. He, however, said to Saturday Beats that he's not getting married soon and this is a fact he communicated to her when she said she was pregnant. He added that both his kids are from one woman so he knows what he is doing. Surprised, Empress, didn't "Nollywood" him a child. After all the gra gra!
Flavor – We all know his love for beauty queens, internationally and locally. Both his baby mamas are ex beauty queens who have given him two lovely girls. He is not currently dating any of them to the best of our knowledge, but he has a great relationship with them and the girls. There were rumours about him being married to Sandra, the first baby mama, but he hasn't addressed the issue. We now know what's in that his waist that he wriggles in every song!
Runtown – His baby mama is his American girlfriend, Selena Leath, who gave birth to a baby boy earlier this year. They are still together and hopefully waxing strong. We hope "she sabi cook waakye" because Runtown is "Mad over her"!
Toyin Lawani – She actually celebrates the fact that she is a baby mama and we kind of dig it. Why? Fact is a fact, why hide it? It's your reality you might as well have fun with it. Her baby daddy is Lord Trigg who is a musician and their son, Lord Maine is two years old and already a pay porte ambassador. Dig it, girl!