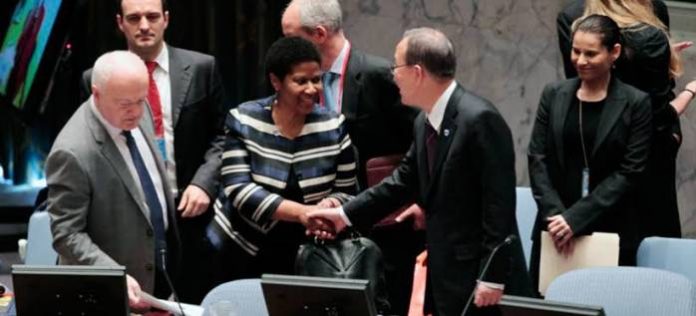 UN Secretary-General António Guterres, says the world can no longer exclude women in leadership, which forms half of humanity, from international peace and security matters.
Guterres told the Security Council on Thursday that challenges and gaps that continued to prevent women from having equal say should be addressed.
"Today, women's leadership is a cause. Tomorrow, it must be the norm," Guterres told the meeting, covering landmark resolution 1325 on Women, Peace and Security.
Commenting on the photo exhibition on women he just visited, the UN chief told ambassadors that the exhibition brought to "vivid life" their dedication to "the most important and consequential cause of all, peace."
He visited the photo exhibition, "In their Hands: Women Taking Ownership of Peace'' – a collection of inspiring stories of women around the world, seen through the lenses of women photographers.
"From the safety of this chamber, we discuss and debate pathways of peace for countries around the world," UN chief said.
"But the women portrayed in the exhibition are on the front lines of the fight for peace."
He called them peacebuilders, changemakers and human rights leaders.
He further described their work as mediating and negotiating with armed groups; implementing peace agreements; pushing for peaceful transitions; and fighting for women's rights and social cohesion throughout their communities.
Yet, he pointed out, "women remain on the periphery of formal peace processes, and they are largely excluded from rooms where decisions are made."
Citing rising rates of violence and misogyny; the extreme under-representation of women in decision-making positions; and a myriad of challenges faced by those in conflict, Guterres observed that the power imbalance between men and women remained "the most stubborn and persistent of all inequalities."
"In every humanitarian emergency, the clock on women's rights has not stopped. It is moving backwards.
"In Ethiopia, women have been victims of sexual violence; in Yemen, excluded from political processes by the warring parties.
"In Afghanistan, undergoing a rapid reversal of the rights they had achieved in recent decades; and in Mali, after two coups in nine months, the space for women's rights is not just shrinking, but closing," Guterres said.
The UN chief stressed: "We need to fight back, and turn the clock forward for every woman and girl" – the commitment outlined in Our Common Agenda and Call to Action on Human Rights."
"Increasing women's representation and leadership across every aspect of the UN's peace activities is critical to improving the delivery of our mandate and better representing the communities we serve.
"But Council's support is needed for partnerships, protection and participation.
READ ALSO: Black Americans, Women Make Big Strides On Top U.S. Corporate Boards – Report
"Women leaders and their networks must be supported to meaningfully engage in peace and political processes," he explained.
He also pointed out that women human rights defenders and activists must be protected as they carried out their essential work.
"And finally, women's full, equal and meaningful participation must be supported in peace talks, peacebuilding, and political systems as countries transition to peace.
"We need full gender parity. We know it can be done.
Women should not have to accept reversals of their rights in countries in conflict, or anywhere else, the UN Chief stressed.
Guterres said that the UN on its part, would double down on "truly inclusive peacemaking" and put women's participation and rights "at the centre of everything we do – everywhere we do it."
"The best way to build peace is through inclusion, and to honour the commitment and bravery of women peacemakers, we must open doors to their meaningful participation.
"Let us turn the clock forward on women's rights and give half of humanity the opportunity to build the peace we all seek," the UN Secretary-General submitted. (NAN)