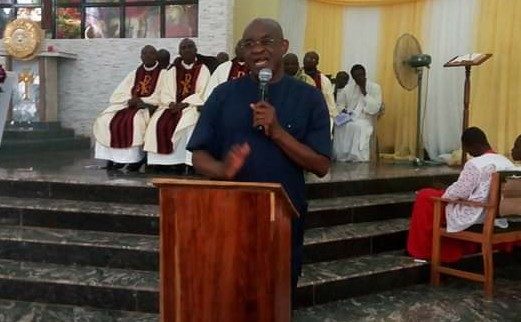 Former Senate President, Senator David Alechenu Bonaventure Mark, on Sunday, held a thanksgiving mass to return thanks to God for the successful 20 years of service to his people of Benue South at the National Assembly.
The thanksgiving Mass took place at St. Augustine's Catholic Church, Otukpo, Benue State, with highly placed personalities including the State Governor, Samuel Ortom and his Deputy, Benson Abounu, Senator-elect for Benue South, Abba Moro, Senator Suleiman Adokwe representing Nasarawa South and other top government functionaries in attendance.
Mark, who had embarked on a thank you tour of the nine local governments in his district, was thanking God for the grace to serve his people of Benue South Senatorial District for five consecutive terms culminating into 20 years.
He recalled that when he came back from exile in 1998, he traversed Idoma land and ended with a thanksgiving, saying it was in the same light that he was marking his exit from the senate.
He thanked the priests as well as his family for standing by him in the past 20 years he served as senator and appreciated, in a special way, the people of Zone C for electing him in the six times he stood for elections to the Senate.
Sen. Mark thanked Governor Ortom for being the only Governor that followed a presidential aspirant to the podium during the last Peoples Democratic Party, PDP, Presidential primaries in Port Harcourt and proudly voted for him during the primaries, saying he would forever remain grateful for that honour. He also thanked everyone who came to celebrate with him and wished them well in their endeavours.
READ ALSO: Gov. Dickson Rejects 'Life Pension Bill' for Bayelsa Lawmakers
Benue State Governor, Samuel Ortom who led other dignitaries to the event showered encomiums on the former Senator for his numerous contributions to human and capital development across the country.
He described Sen. Mark as a humble, committed and God fearing leader who had impacted lives positively, stating that he was also a beneficiary of Mark's benevolence as the former Senate President was instrumental to most of the appointments he held in the past just as he also supported him immensely to be re-elected as Governor for a second term.
He thanked the people of Zone C and Benue people in general for supporting his re-election, stressing that in his second coming, mistakes of the past would be corrected as lessons had already been learnt during the last four years.
Senator Suleiman Adokwe and Abba Moro in their separate remarks said the trust the people of Zone C had in Mark was not misplaced, saying he had impacted lives positively in Idoma land and beyond.
The first daughter of the former Senate President, Mrs. Owoh Ameh said time had come for her father to hand over the mantle of leadership to the younger ones and prayed God to bless him as he steps aside to give counsel to the younger generation.