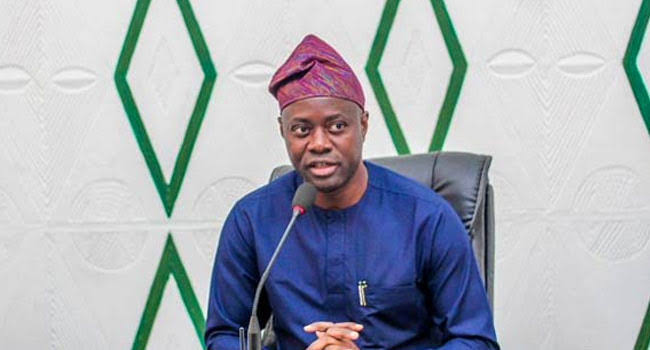 Gov. Seyi Makinde of Oyo State, alongside his Rivers counterpart, Gov. Nyesom Wike, on Friday inaugurated 500,000 litres capacity aviation fuel facility built by his government.
The aviation fuel facility, a Public-Private Partnership project, built by BOVAS Petroleum Ltd., is part of Makinde's efforts to ensure the upgrade of Ibadan Airport to an International Airport, thereby, boosting the state economy.
The newly constructed 3.2 kilometres dualised Airport Road executed by the state government was also inaugurated.
The road, named after a former Governor, Dr. Omololu Olunloyo, was contracted to Kopek Construction Company in August 2022.
Makinde said at the occasion that completion and inauguration of the 3.2 kilometres road and the aviation fuel tank projects were fulfillment of the promises he made to people of the state.
He said his dream of making the Airport to become an international one and where aircrafts would fly every 30 minute, was still alive.
READ ALSO: Tinubu Support Groups Back Oyo State's Gov. Makinde's Re-election Bid
The governor said that history had been made by his administration with the construction of the aviation fuel dispensing facility at the Ibadan Airport.
He said the new development would enhance the aviation operational activities at the airport and also boost economy of the state.
Makinde appealed to the people of the state to vote for him come March 11, during the governorship election.
He said that this would enable him to get re-elected to continue providing good governance.
In his remarks, Wike lauded Makinde, describing him as "a reliable and dependable ally."
The Rivers Governor said he wasn't surprised that Makinde was performing excellently well.
Wike described Makinde as one of those that made history in ensuring that power returns to the South.
He urged the people of the state to cast their votes for Makinde on March 11 for him to continue the good work.
According to him, if Makinde can perform well this way, he will do more in his second tenure.
The Manager, Ibadan Airport, Mr. Ojo Adedeji, appreciated Makinde for his contribution and support to the Airport.
According to him, Makinde, in the last four years, has been assisting Ibadan Airport in many areas.
"For instance, Makinde's administration has provided fire tender machine; built protocol launge, among others," he said.
Adedeji added that the inauguration of 500,000 litres capacity aviation fuel facility being handled over to the airport management, was historic.
NAN also reports that Makinde and Wike later flagged off the construction of Dr. Victor Omololu Olunloyo Park at the Airport Junction, Alaakia Ibadan.
Olunloyo, after whom the road and park projects were named, appreciated Makinde for honouring him.
He said that he never knew that something like that was in store for him. (NAN)