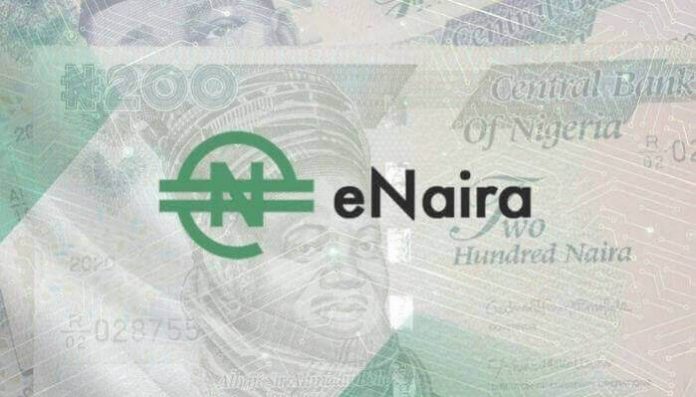 Traders at Kairo Market, Oshodi, Lagos, on Thursday commended the Central Bank of Nigeria (CBN) for introducing the digital currency, e-Naira.
The traders gave the commendation at a sensitisation programme organised by the apex bank, in collaboration with Bizi Mobile, an e-Naira wallet agent.
The Secretary of Oshodi Market union, Mr. Obinna Umeh, applauded CBN for proffering lasting solution to fake alerts often received by traders, adding that it had been hindering their operations.
"The CBN couldn't have come at a better time to educate us about e-Naira; there's almost no day we don't have to settle disputes about fake alerts, times that we could channel into more productive things.
"I want to applaud CBN for bringing this to Oshodi; as we all know once e-Naira gets running at our market, other big markets and small ones will queue in too. Don't forget Oshodi is the hub of business in Lagos State.
"I'm happy that e-Naira will help us find lasting solutions to our challenges. We have lots of questions but I am confident that we will get all the answers," he said.
The President Arewa United Consultative Forum, Alhaji Ado Dansudu, urged the apex bank to introduce e-Naira in indigenous languages in order to engender more participation.
"Language may pose as a barrier, so the information should be translated in our indigenous languages if not the purpose of this programme will be defeated," he said.
Aminu Bizi, Managing Director of Bizi Mobile, a certified agent merchant aggregator to CBN, said e-Naira was undoubtably the best form for any business transaction.
He urged interested individuals to enroll as agents: "Mark my words very soon Point of Sales (POS) operators will run out of business because e-Wallet is the main thing and it is super easy to use.
"CBN pays you for every wallet opened, unlike POS you can seat down at your comfort zone and transact your business with ease."
Yusuf Abudujelili, Project Representative e-Naira, while shedding more light on how e-Naira works, said unlike regular bank transactions that at times would not go through, e-Naira was seamless.
According to him, the inclusiveness of e-naira has made it easy for Nigerians, even those who do not have a bank account to have an e-wallet account.
"Those who have suffered from financial seclusion will all benefit from e-wallet once they open and fund their wallets.
"They don't have to have millions to open their wallets, they don't have to have any stipulated account balance unlike banks.
"We are committed to ensuring that it is fraud prove and that customers monies are safe because of the necessary precautions that the CBN has taken," he said.
The e-Naira Brand Controller CBN, Bariboloka Koyor, assured traders that their money would be safe with the use of e-wallet, adding that it would also eradicate the spread of counterfeit notes.
"The process was designed with the best integrated security system to guard against fraudulent alerts or transactions; it is full prove and we are working to improve on it daily.
READ ALSO: NDLEA Uncovers N22b Worth Of Imported Tramadol
"The e-Naira is fast and cheap for diaspora transfer and local transfer; for business men and women this is the best in terms of eradicating the spread of counterfeit notes.
"Then with this digitalised mode of payment, the risk associated with carrying large amounts of cash around is cancelled, cash don't have to travel," he said.
The News Agency of Nigeria (NAN) reports that e-Naira, a Central Bank of Nigeria-issued digital currency was launched in October 2021.
The eNaira serves as both a medium of exchange and a store of value, offering better payment prospects in retail transactions when compared to cash payments.
The e-Naira has an exclusive operational structure that is both remarkable and nothing like other forms of central bank money.
Nigerians can use 997, the USSD code for onboarding and helplines created to serve the customers better, are 08000myenaira and [email protected].