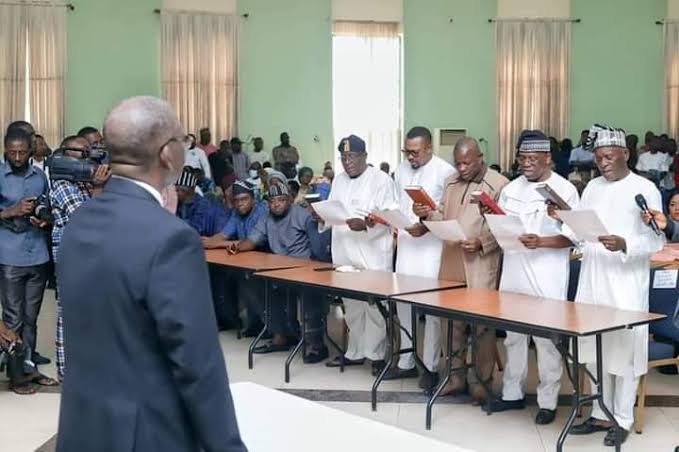 Benue State Governor, Samuel Ortom, has sworn-in eight new Commissioners as Members of the Benue State Executive Council, as well as five new Special Advisers.
Speaking at Government House on Thursday, the Governor commended the Speaker and all Members of the Benue State House of Assembly for diligently and expeditiously screening and approving their appointments in accordance with the provisions of the Law.
The new Commissioners include Mr. Kester Kyenge as Commissioner for Agriculture and Natural Resources, Uungwa Sachia Jude, for Works and Transport, Barrister Agbatar Williams, Industry and Cooperative, Michael Inalegwu for Information and Agber Benjamin Aernan, for Trade and Investment.
Others are Dr. Jane Aja for Science, Energy and Technology, Dr. Sarwuan Tarnongo for Education,and Barrister Teryima Nguher for Youth and Sports Development.
The new Special Advisers are Michael Adyo, Richard Ujege, Ade-Nguhar Aondoaver, Joshua Ogbole and Otokpa Otse.
The Next Edition reports that with this swearing-in, Benue now have 16 Commissioners and 30 Special Advisers taking charge of the various Ministries, Departments and Agencies in the state.
Ortom who congratulated his new appointees said their selection from among other eminently qualified Benue sons and daughters is a unique opportunity to make contributions to the development of the State especially as his administration approach the finishing line.
READ ALSO: FG Fixes Transmission Line in Benue, Promises Power Boost Across Nigeria
He said the re-constitution of the State Executive Council provided an opportunity to inject new blood in the efforts to quicken the pace of service delivery that will enable him finish strong for "better is the end of a matter than its beginning .
Ortom charged the new appointees, to sustain those positive leadership qualities that qualified them for
appointment, saying "I wish to draw their attention to the fact that they have assumed Office at a time challenges are numerous and expectations are high.
"You must acquaint yourselves with our policy document, "Our Collective Vision for a New Benue", as well as the manifesto of the Peoples Democratic Party (PDP) and hit the ground running.
Ortom who cautioned the new appointments against pilfering of government money told them to reject the appointments and go into business if they want to make quick money warning that he will not cover anyone found culpable when the EFCC comes calling.
Speaking on behalf of the appointees, the new Commissioner for Agriculture and Natural Resources, Mr Kester Kyenge, thanked the Governor for finding them worthy and pledged to do their bid in repositioning the state.