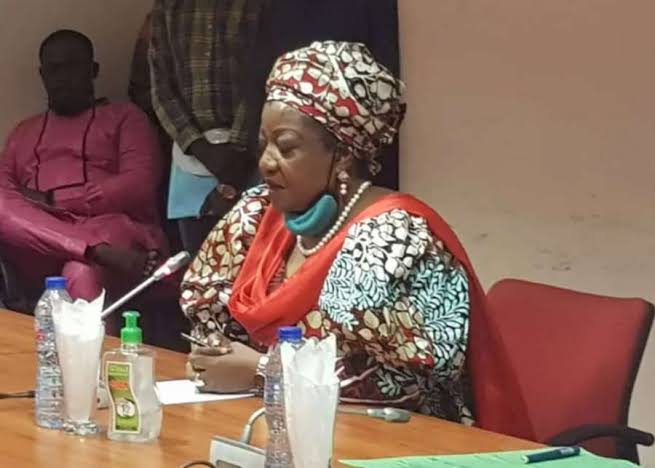 The All progressive Congress (APC) and Peoples Democratic Party (PDP) in Benue State have reacted to the Senate rejection of President Mohammadu Buhari's nominee, Lauretta Onochie, as National Commissioner for Independent National Electoral Commission (INEC).
The Next Edition reports that the Senate, on Tuesday, rejected the nomination of Lauretta Onochie as a National Commissioner of INEC.
According to the Chairman of the Committee, Kabiru Gaya, in his report, Onochie did not satisfy the provisions of the Federal Character Principles.
Reacting to the development, the APC in Benue said "the Senate as the upper legislative house of Nigeria operates within the ambit of the law and any decision that is guided by the law is right."
The state APC, through the Caretaker Publicity Secretary, Mr James Ornguga, said "Senator Gaya while conveying the decision stated clearly that her nomination violated the principle of Federal Character as her state already has an appointee in that category.
"The decision further portrays President Muhammadu Buhari as an honest President that truly belongs to everybody and does not influence actions unduly to suit his party."
Meanwhile, the PDP in the state has hailed the rejection by the Senate of the nomination of Lauretta Onochie for the INEC job.
READ ALSO: Nnamdi Kanu: FG Welcomes Ohanaeze Monitoring Group
The party recalled that the nomination by President Muhammadu Buhari of Ms Onochie, a well known card-carrying partisan of the All Progressives Congress (APC), to function as a Commissioner of the nation's electoral umpire, attracted widespread outcry within and outside of Nigeria, yet the Presidency was adamant on her choice in blatant disregard for the feelings of Nigerians and the integrity of the institution of democracy in the country.
"Benue PDP, therefore, commends the Senate for rejecting that obnoxious nomination, being it an action which goes a long way in averting the threatened damage to the integrity and sanctity of democracy in our country.
The State Publicity Secretary, PDP, Benue State, Bemgba Iortyom, on behalf of the party, charged that as the 2023 elections draw nearer, the people, both individually and collectively, must be vigilant in watch over the polity and resist all attempts by the APC led government at the national level to undermine the institution of democracy to their own advantage.