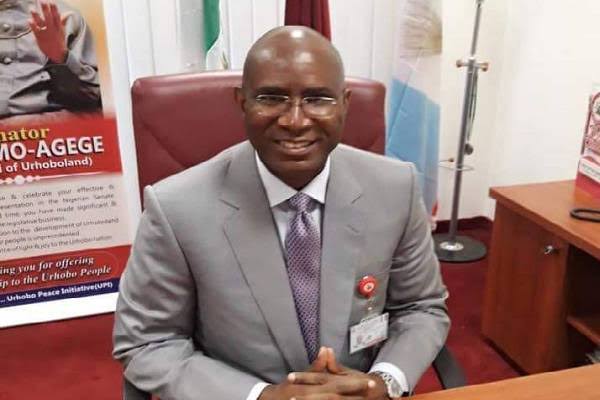 Deputy Senate President, Senator Ovie Omo-Agege, has emerged leader of the All Progressives Congress, APC, in South-South.
He was elected to lead the party on Thursday by the South South caucus of the party.
Vice National Chairman of the party (South-South), Hillard Eta, who presided over the meeting noted that the purpose of the meeting was to review the performance of the party in the last general elections especially its victory in Bayelsa state.
Some chieftains of the party present at the meeting were Mr. Don Etiebet, Senator Ndoma Egba, Senator Ita Enang, Temi Harriman, Great Ogboru, Umanah Umanah, Senator Omo-Agege, amongst others.
On the other hand, some notable leaders and chieftains of the party were conspicuous in their absence and they included the Edo State Governor, Godwin Obaseki and Transportation Minister, Amaechi Rotimi, among others.
Among issues reportedly discussed at the meeting, which was held at the private office of the National Chairman of the party, were the crisis in the Edo State chapter of the party, the crises in Rivers, Akwa-Ibom, Cross River, among others.
Some party chieftains expressed worry about the attitude of some members in the zone whom they alleged were working against the national chairman.
The Deputy Senate President, Ovie Omo Agege, who described Oshiomhole as "our own that must not be antagonised," appealed to members to support him.
"Why are we antagonising our own? We have to stand by him. The party in the zone hasn't fared very well. It is important to close ranks against the raging war," he urged members.
Also speaking, Eta called on the warring members to sheathe their swords and work together.
He said: "In Edo and Rivers states, we must find a solution to the problem. I want to beg all warring parties to sheathe their swords," he added.
On his own part, the APC National leader, appreciated those who turned up for the meeting.
Acknowledging the crisis bedeviling the party in his home state, Edo, Oshiomhole said he was determined to make concessions for genuine reconciliation.
The meeting constituted a committee to look into the crises rocking the party in Edo and Rivers States.