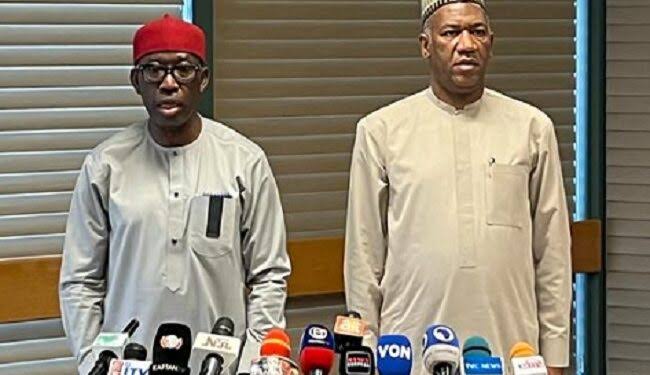 The Vice Presidential candidates of the Peoples Democratic Party (PDP), Gov. Ifeanyi Okowa, and Labour Party (LP), Dr. Datti Baba-Ahmed, have called for the cancellation of Saturday's presidential election.
Baba-Ahmed and Okowa, at a joint press conference on Tuesday in Abuja, called on Independent National Electoral Commission (INEC) to cancel the election and commence the process of a fresh election that would be credible.
Okowa said that Saturday's election was a sham and neither free nor fair.
He said what played out at the National Collation Center exposed that INEC was playing to a predetermined script.
"Our position remains that the election and transmission of the results must be in tandem with the Electoral Act and the INEC guidelines."
Okowa added that "there is no doubt that INEC is under a statutory obligation to transmit election results electronically.
"Paragraph 38 of the INEC manual made under section 149 of the Electoral Act 2022 and the 1999 constitution as amended provides for this."
He said that INEC could not continue to announce results that were yet to be transmitted as expressly stated in the relevant Sections of the Electoral Act.
"The law is that where the law has set out the procedures to be followed, those procedures and no other must be followed.
"The argument that INEC guidelines have no force of law is idle and wayward arguments.
"This is not even the question of alterations to the results. It is a question of non-compliance with mandatory statutory provisions," Okowa said.
Okowa faulted the argument that it was only when the Chief Electoral Officer of the Federation announces the winner of the presidential election that the results could be uploaded on the INEC portal.
"There must be uploading of results at the polling units after the polling officers had announced the winner at the polling units."
On his part, LP Vice Presidential Candidate, Datti said INEC accelerated itself to promote illegality.
Datti advised INEC to listen to international observers, elder statesmen, and different organizations that had expressed their dissatisfaction on INEC action.
"This is not the rule of law. This is not democracy," Datti said. (NAN)