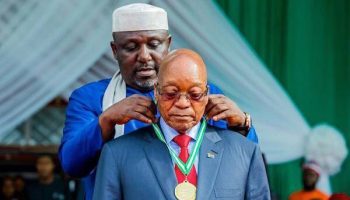 Imo State Governor, Rochas Okorocha, has ridiculed critics of his multimillion naira reception party for indicted South African President, Jacob Zuma.
Mr. Okorcha, had come under scathing criticism for allegedly spending close to N500 million to host Mr. Zuma, confer chieftaincy title on him and unveil a statue in his honour in Owerri, the state capital.
President Zuma arrived in Nigeria on the heels of extrajudicial killings of three Nigerians in his country in less than three weeks.
One of the victims, Ibrahim Badmus, from Lagos State was killed barely two days before Mr. Zuma trip to Imo State.
Special Assistant to the Nigerian President on Foreign Affairs, Abike Dabiri-Erewa, said no fewer than 116 Nigerians have been killed in Mr. Zuma country through extra-judicial means in the last two years.
Besides the killings, the Owerri reception held days after the South Africa's Supreme Court of Appeal upheld a High Court ruling reinstating nearly 800 corruption charges filed against Mr. Zuma.
While Nigerians were mourning the killings and South African were vilifying Mr. Zuma for being corrupt, Imo State Government boasted the indicted president was in Imo, "where God does new things on a daily basis using Governor Rochas Okorocha as a veritable tool."
In a 25-point statement signed by Mr. Okorocha's Chief Press Secretary, Sam Onwuemeodo, the governor bragged that while the good people celebrated the good things Mr. Zuma brought to the state, frustrated opposition elements went on social media to make noise about the statue erected in honour of the indicted president.
The statement was titled, "The Coming of President Jacob Zuma of South Africa to Imo and the Lamentations of Shortsighted Social Media-Based Opposition."
Describing his critics as enemies of the people, Mr. Okorocha, said they failed to see the good things associated with Mr. Zuma's visit, and concentrated on the statue he erected to encourage the South African leader.
The governor boasted only three persons are opposed to his government and are also responsible for recruiting young people to attack him on the social media.
According to him, out of the three, two are struggling to take over his office in 2019 while one is bent on installing a governor from his zone.
"Few days before the coming of President Zuma, we had told the world the reasons for his coming, and principally for the signing of MoU between Jacob Zuma Education Foundation and Rochas Foundation College of Africa," the governor said.
"For that purpose, the Chairman of the Board of Trustees of Rochas Foundation College of Africa, former President Olusegun Obasanjo also came that Friday. We were at Sam Mbakwe International Cargo Airport when President Zuma landed at about 7:10 pm. And it was a celebration galore for men and women of good spirit present, especially seeing that the Imo International Cargo Airport has become a reality.
"That night, he was at the Eze Imo Palace to be accorded Imo traditional way of welcoming such an august visitor," he recalled.
He said while he and Mr. Zuma were signing a Memorandum of Understanding (MoU) between their respective foundations, indigent children across Africa were busy calling themselves brothers and sisters on live TV, and the "enemies of good things kept mute."
READ ALSO: Aare Onakakanfo won't make me die young – Gani Adams
Mr. Okorocha quoted Mr. Zuma to have said, "I have found a real African brother who shares my vision.
"I have agreed with him that we will collaborate and make the foundation very strong and when we do, we may have found a solution to African problems. I am proud to associate with another great visionary who has discovered therapy for African problems.
"I believe each and every one of you has a history like me. If I can make it without seeing the walls of any school, you can make it even better because of the quality education you are getting in this Foundation."
Speaking at the event, Mr. Okorocha quoted himself to have said, "I am glad that the vision I had 17 years ago has grown in heaps and bounds. The Rochas Foundation Colleges have over 15,000 students across the nation and over 4,000 graduates in different fields.
"As it stands today, I have dedicated 75 percent of my wealth to the foundation. Every child here is a story. Some of them their parents died of Ebola. They will all finish their universities here and then go back to their countries to contribute to the economic development of their countries."
The governor also boasted how he extracted a promise from Mr. Zuma that "No South African must kill a Nigerian and no Nigerian must kill a South African. The relationship between Nigeria and South Africa should be stronger than any other part, for the sake of the Continent of Africa. Africans must come together to address African problems. We are the same people."
He said it was a pity the three opposition figures in the state would not hear the good news that came with Mr. Zuma's visit but decided make noise and attached a non-existing cost to the statue of the South African president.
"We owe no one apology. Rochas made a promise to open the doors of Imo to the rest of the world, for good and he is doing that and we cannot be deterred by these enemies of our people," Mr. Okorocha continued his brags.
"PDP in Imo is dead. The remaining people in the party will soon join APGA because Imo people have continued to ask them what they did with the 12 years' mandate Imo people gave to them, beyond rampant Gala nights and drinking of Moet, Xo, and Hennessy et al.
"And for two or three of such people in APC who think that they can make headway by insulting the governor, we are only waiting and watching to see the extent they can go.
"If it was in the days of PDP, Schools and Markets would have been shot down. And roads closed because President Zuma was coming. But none of such things were done because Rochas and his government have a human face. The PDP for the 12 years they held sway never attracted any meaningful visitor to the State except PDP NEC members who were coming to loot the State.
"In all these gimmicks, their target is 2019. And if calling Rochas Alhaji in Government House, and branding Imo Women, PDP widows against Rochas could not help them in the 2015 election, then, there is no guarantee that the noise over a statue of a man that brought good tidings to the State will in any way help them in 2019.
"When the time comes, we will catalogue Rochas' achievements and Challenge opponents or Contenders to display theirs. You do not ask for people's mandate in the vacuum. There must be a basis for that. That is the edge we have over them in quantum.
"If it was now, these same elements would have told Naaman not to obey Elisha by going to wash seven times in River Jordan. And he would not have got his healing over leprosy because they would have refused to see far.
"Imo State is on the fast lane of development. And those who want to remain behind can do so. We won't wait for them. Imo is in the hand of God," Mr. Okorocha concluded.