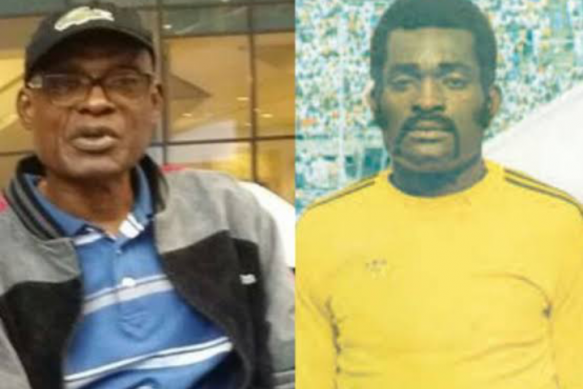 Bendel Insurance inflicted so much pain on Emmanuel Okala in the grande finale of the 1978 Challenge Cup with a 3-0 drubbing of Enugu Rangers. The goalie also felt at home in Benin City, home of the Insurers where he enjoyed a special delicacy .
The Flying Antelopes chose Crown Hotel, Benin anytime duty called in the ancient city. It is owned by the Idehen family. In 1979, the Idehens hosted their guests to sumptuous lunch in their home, away from the hotel. Okala did not forget the pounded yam and okro soup prepared by Mrs Idehen.
George Omoregie Idehen tells the story : " I met Emma Okala back in 1977 when Rangers were in Benin Zone for the National League. They were camped in my family hotel, Crown Hotel for about four weeks. I particularly liked Emma because of his legendary status and became his friend also.
" With my mum's permission, I invited about four of them, Emma, his younger brother, Patrick, Christian Chukwu and Adokiye Amiesimaka, to our home for a sumptuous lunch of pounded yam and okro soup, one of my mum's speciality," Idehen said.
The four players devoured the meal and took the experience back to the hotel. Their team mates felt bad that the Idehens picked four out of a full squad for lunch while the rest were crowned with food served in the hotel.
Idehen serves more of the story. " The four ate so much and couldn't stop talking about how much they enjoyed themselves and the delicious food, much better than hotel food. This made other players jealous and they asked me why they weren't invited. We had to organise another lunch where others were invited."
The young Idehen became a Flying Antelope by association and was known to all the big stars paraded by the team. The friendship made him popular as the boy who took Rangers bus and sat on the team's bench.
" As a young teenager then, I had a Summer job in the hotel and I struck up friendship with the younger players who were closer to my age group. Patrick Okala, Okey Isima, Nnamdi Nwokocha, Amiesimaka and others. I was very popular with the players and it was Aloysius Atuegbu who gave me the nickname, 'Chop Something', because of my fat , chubby size.
" I was accorded VIP status as I rode with them in the team bus to the matches and sat on the players bench. That was the beginning of a long relationship. Rangers would return to our hotel in subsequent years," Idehen added.
Okala further extended the friendship with the Idehens. George embarked on a trip to Enugu and was honoured to be introduced to members of the larger Okala family which included the patriarch and his wife.
Idehen said : " In 1979/1980, Emma invited me to Enugu for his wedding. Since it was Summer Holidays, I went to Enugu and stayed in his house for one week. I got to meet his entire family, his parents and other siblings who gave me a very warm stay.
"I left for the the US in 1981 and lost contact with Patrick and Emma after that. While in the US, I learnt of Patrick's death. I wrote Emma a letter through the Sports Council address which I don't know if he received. I wish him a very happy 70th birthday. How time flies!"
It was also at Crown Hotel that Okala told journalist, Nkem Osu how living in Biafra during the Civil War helped him overcome rabid fans at the Demba Diop Stadium, Dakar in 1977 when Rangers beat AS Police of Senegal 2-1 in the African Winners Cup.
According to Osu : " I once interviewed Okala at Crown Hotel and he cited that quarter finals match as one of his most memorable. The goalie said,' when they started pelting me with stones and bottles as distraction, I decided to brave it out having survived the Civil War. It brought out the never say die spirit of Rangers.' That is vintage Emma Okala."
Rangers veterans were not left out as eulogies poured on Okala, from America to Africa. Sam Onyeaka described him as, " a Field Marshal whose directive must be followed or you got yelled at to put you in your position. A no nonsense goalkeeper, always serious with the game, who never loved to lose."
Godwin Ogbueze said: " Yes, Okala was a very talented player. He made good use of his size. He is a big fellow and very athletic." Chukwuma Igweonu's son, Chiedozie spoke from Europe. "My dad had so much love for Okala, he never stopped talking about him. Okala is so sound, honest, bold and principled that if you do not get close to understand him, you will feel uncomfortable."
Late Okey Isima's younger brother,Ndubuisi who  reacted from South Africa, said: "Gentle Giant. Soft spoken but very aggressive on the pitch. A cult personality, his tracksuit was a magical symbol to Onitsha fans. Okala deserves more than what he is getting for his contributions to football development."
Green Eagles team mates have a lot to say. To Felix Owolabi, " He was a thorn in the flesh as his height and huge body was enough to scare many strikers. As a colleague who supported him in the Defence and midfield in our days, we were always sure of him, very reliable goalkeeper."
READ ALSO: How Mockery Spurred Charity Ubia, an Akwa Ibom Girl to Aim for Excellence
Francis Moniedafe who also played for the Insurance squad that beat Okala thrice in 1978 said : " Babuje, we used to call him, the Tallest. A man you always wanted to be behind you with his sure hands and towering frame. Easily one or the best goalkeepers we have had."
James Udemba made me laugh when we chatted about Okala. "He does not paddy with me and Alphonsus Dike because we always terrorised him on the pitch, in Coal City Enugu( Udemba and Dike played for city rivals, Vasco Da Gama) and Green Eagles camp."
Goalkeepers also celebrated one of their own. Etta Egbe called him, " a great Commander in Defence and aerial ball specialist. Okala was a goalkeeper with great determination. You could only  be privileged to see him smile after a good win."
Victor Oko said : " I am privileged to have played under him as a goalkeeper and understudied him as a Goalkeepers coach. He is a living legend, a source of inspiration to present footballers and even the up and coming ones."
Younger players saluted Okala. Israel Akporero, ex-Insurance and Flying Eagle called him, " a giant and iroko in the net that gave attackers nightmares." Shola Akinwale who won the CAF Cup with Shooting Stars in 1992, said, " Well, I was very young when the likes of Okala were playing actively. We watched them from afar on the field and TV."
Patrick Olalere, a member of the Stationery Stores team that beat Rangers to lift the Challenge Cup in 1990 thinks Okala is " the greatest Green Eagles goalkeeper of all time." Eddy Dombraye, ex- Super Eagle quipped, " I did not see him play but growing up, I remember young players named themselves after Okala."
Life Patron of Rangers Veterans, Ezeomeogo Benson Ejindu reminded me of his close ties with the legend. " Okala was my neighbour in New Haven, Enugu. He is my neighbour right now at Trans Ekulu, Enugu."
Rangers die hard, Donnie Ikpa sent me Okala's photographs from the United States. And added a 'famous quote about his stint as Rangers Goalkeeper coach-Akpoogi ibia, achuogi inaa( if they call you, you come, if they sack you, you go).
Ikpa said : "As a Ball Boy during his playing days, I didn't expect such a humble and down-to-earth person in real life. You sit with Okala for an hour and you become a walking encyclopedia of Enugu Rangers in particular and African football in general. I had that opportunity twice-2014 at the inaugural ex- Enugu Rangers Convention in Maryland US and 2015 at the second convention in Atlanta."
Soccer Administrators joined the praise wagon. Former NFA bigwig, Steve Olarinoye, hails Okala as , " the man they could not arrest. The fearful terror and arrester of strikers.
Akwa United Chairman, Paul Bassey called  Okala, " a god in his own right. Invincible! Larger than life. A wall attackers saw as mountain and could not penetrate. Disciplined and professional. A permanent fixture and asset to his team on the field, uncanny humour and soul of the team outside of it. I cherish his friendship over time."
I asked former Chairman Imo State Sports Commission, Fan Ndubuoke to pen a one- paragraph tribute. " One paragraph for Emma Okala? Is it possible? How can you describe an enigma in one paragraph? We grew up to be mesmerised by Okala's heroics. Stories about him were mystical. Like Nnamdi Azikiwe, Okala is not only physically huge, his exploits are taller than his height."
From Nollywood came the voice of Diewaight Ikpechukwuu who also played football for Enugu side UNTH. " A legend of all seasons." One of the founders of musical group, Wings, Manford Best described Okala as a good keeper.
Former national tennis champion , Sadiq Abdullahi said: " Emma Okala was a symbol of inspiration, growing up in Lagos and watching him mount the post at the National Stadium against formidable teams. He epitomises leadership, confidence and hope."
One time national cricket coach, Olisa Egwuatu sees his Onitsha brother as, " a Colossus,one of the best."
From the UK, Cameroonian, Louis Mboua confirmed that, "Okala was feared in Cameroon. We heard over the radio of his superior and legendary goal keeping skills against Canon of Yaounde and against the Indomitable Lions."
Tunisian, Haithem Cherif said: " I heard about him but never watched him play. A name that sounds legendary."