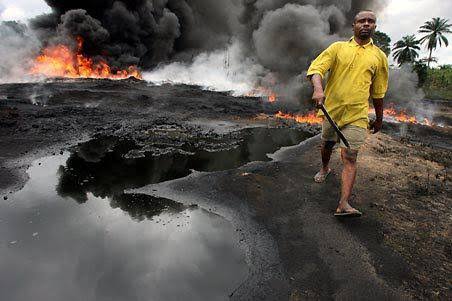 The Movement for the Survival of the Ogoni People (MOSOP) has attributed the killings in Ogoni land to the campaigners for forceful oil resumption in the area.
The group's President, Fegalo Nsuke, made this known at a meeting with MOSOP coordinators and affiliate heads in Bori, Rivers State.
Mr. Nsuke said the oil resumption campaigners were being sponsored by the oil firms to destabilise Ogoni and force oil resumption against the wishes of the people.
He warned that forceful resumption of oil exploration will result in the killing of more people and should not be encouraged by any responsible government.
The Ogoni leader insisted that the lives of the people are more important than oil and should be given priority.
Mr. Nsuke warned that if the government goes ahead to resume oil production in Ogoni, the citizens will protest and as usual, soldiers will be deployed to kill them.
He, therefore, advised against any attempt to forcefully resume oil production now, adding that MOSOP does not want its people to be killed any longer.
"The attitude of the Nigerian government towards Ogoni is huge a national shame and a sad reflection of our degrading national values," Mr. Nsuke said.
"The government must take responsibility for the crimes of its cronies in Ogoni and call them to order. We know that the friends of the Nigerian oil industry and the government are behind the violent crimes being perpetrated in Ogoni today.
"The intention of the oil resumption campaigners is to completely destroy the Ogoni social life with the hope that the Ogoni people will become helpless and unable to rise against any military intervention.
"The calculation of the oil industry and their allies is to create room for a military barracks to be sited in Ogoni to pave way for forceful oil resumption.
"Shell, the government and their campaigners for oil resumption in Ogoni all know those behind the carnage and pains Ogoni is going through at the moment but they have all connived not to protect the Ogoni people."
Mr. Nsuke noted that on June 22, campaigners for forceful oil exploration invited gangs to a meeting in Saapenwa, Tai Local Government Area of the state.
He insisted that those supporting the criminal gangs to wreak havoc in Ogoni land want to push the people to a point accepting the militarization thereby giving the way for a military-backed forceful resumption of oil production.
"Ogoni is bleeding because of her oil and the oil industry does not care about the lives of the people in as much as they can gain access to the oil," he continued.
"We call for an independent inquiry into the so-called cult clashes. The inquiry will ultimately uncover those behind the attacks and what their motives are."
The MOSOP leader called for increased police presence and greater government and private sector support for the police in the area.