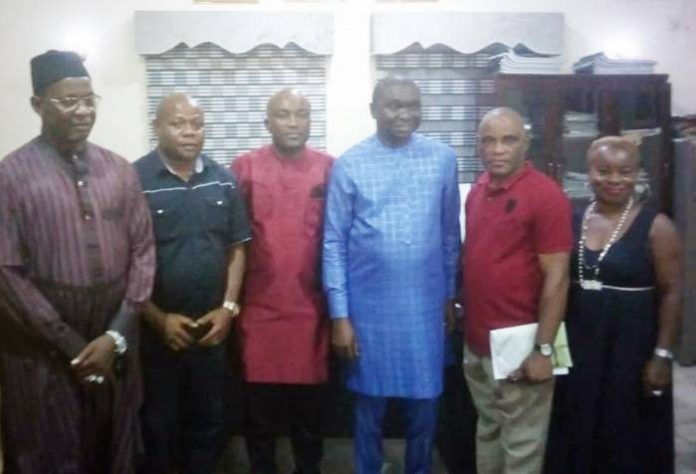 The International Human Rights Commission (IHRC), Geneva, Switzerland (Nigeria Committee), has appointed the CEO of First Rotech Group of Companies Ltd, Mr. Austin Oguejiofor (Onwa Enugwu Ukwu n'Umunri) as a Commissioner and Board of Trustee (BoT) member for Nigeria.
In the letter of appointment sent to Chief Oguejiofor, who had earlier been nominated and finally approved by the International Office, he was appointed to the position due to his extensive work in the area of human rights, philanthropy and numerous contributions in the defence of the down trodden in the society.
Dr. Kenneth Anozie, IHRC Spokesperson, in his statement made available to The NEXT EDITION, quoted from Chief Oguejiafor's letter of appointment, which says: "After a careful consideration of your personal industry and achievements, it is our sincere resolution that you have directly and indirectly activated national and international interests in the protection of human rights in line with the Charter of International Human Rights Commission, and the United Nations Declaration of Human Rights."
He disclosed that the appointment was also premised "on recognition of your care and concern for humanity, your high level of integrity, your abundant inestimable experience and knowledge of Nigeria and international affairs."
At the presentation of his paraphernalia of office, which included a certificate, identification card, and flags, the Special Envoy/Coordinator of the IHRC, Geneva, Nigeria Commission, Amb. Darlington Amadi, told Chief Oguejiofor that by this appointment, he had been empowered to ensure the sustenance of human rights among the people of Nigeria.
"By this appointment, you will use your good and vast network to ensure that the right things are done in Nigeria in the area of human rights, and you will always act as the conscience of the Commission in Nigeria."
READ ALSO: FG Set to Release El-Zakzakky, Detained Wife – IHRC
In his remarks, Dr. Anozie, IHRC National Press/Publicity Secretary, appreciated Chief Oguejiofor for accepting to serve in the capacity as a National Commissioner, and Board of Trustee Member, even as he expressed the belief that he (Oguejiofor) would be equal to the task.
Oguejiofor, in his response, thanked the National Executive of International Human Rights Commission, Geneva (Nigeria Commission), for finding him worthy for such philanthropic and humanitarian assignment, and assured that he will never be found wanting in any area he is needed to act.
"All my adult life, I have always felt that all men and women are born equal, and that their rights need to be protected at all times. And also I have been there for a lot of people who have been subjected to all kinds of oppression; and I will not relent now. Rather I will double my efforts with this appointment," Oguejiofor added.
Barrister Chijioke Nwako, lawyer to the First Rotech Group, and Legal Adviser to IHRC, Anambra State Chapter, recounted the numerous human rights issues which Chief Oguejiofor had fought for in the past, assuring that he would use the platform to do more for the society.
Anozie added the formal date for final investiture at the headquarters of International Human Rights Commission, Geneva, Switzerland, would be announced on a later date.
With the appointment, Oguejiofor joined other Commissioners/BoT members like Dr Chukwuemeka Ezeife, and Dr Ikechukwu Ihechukwu, who had earlier been appointed earlier
Some members of the IHRC National Executive at the event included Dr. Anozie,the National Press/Publicity Secretary; Mr Jimmy Ituamah, a Commissioner); Comrade Labaran Mo'med (Director, Humanitarian Affairs); Lady Jane Gana, Director, Welfare, and Mr Yinka Idris, Director, Logistics.