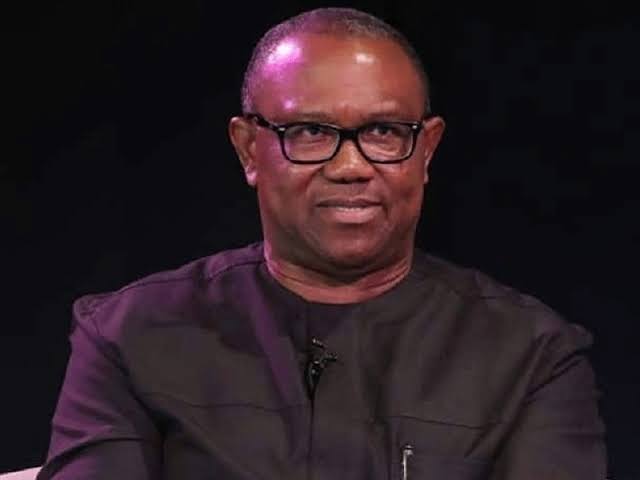 Five weeks after the February 25 presidential election, presidential candidate of the Labour Party (LP), Mr. Peter Obi, at the weekend, got enmeshed in a controversy, when a phone conversation between him and the founder/Presiding Bishop of the Living Faith Church Worldwide, aka Winners Chapel, David Oyedepo, leaked on social media.
Obi came under fire for declaring the 2023 presidential election a religious war, as in the now viral leaked audio published by an online medium, People's Gazette, on Saturday, Obi was heard begging Oyedepo for support.
Obi asked the cleric to help spread the message to his followers in the Southwest and North-central states.
The leaked audio, yesterday, generated heated conversations and controversies on social media with many Nigerians condemning Obi for championing religious-driven campaign in a multi-dimensional country like Nigeria.
The conversation went thus:
Obi: Good morning, daddy.
Oyedepo: Praise the Lord, how are you sir?
Obi: Fine daddy, good morning sir.
Oyedepo: Amen, in Jesus name, we are going to get bright results.
Obi: Thank you, daddy. When I hear these your calls and prayers, daddy, it's very dear to me. Like I keep saying, if this works, you people will never regret the support.
Oyedepo: Amen! Amen! We look forward to God's intervention.
Obi: Thank you, daddy. I need you to speak to your people in Southwest and Kwara, the Christians in South West and Kwara, this is a religious war.
Oyedepo: I believe that… I believe that… I believe that… You know I did a release 'Nigeria Going Forward' and I am coming with the second one today. I wanted it out when they won't have any time to do damage control. But in the name of Jesus, this would be a success. You know what I said in today's own? A sickling nation like Nigeria will require a strong and healthy personality. I said anyone whose source of wealth could not be verified should not have access to governance. So, all we are doing is appealing to the conscience of people to know where to go. But I want to assure you, in the name of Jesus, that the result will be favourable.
Obi: Thank you, daddy.
Oyedepo: So, relax yourself don't be apprehensive. Are you in Lagos or Abuja?
Obi: I am in Onitsha, now.
Oyedepo: So, you will be there for the election?
Obi: Yes sir.
Oyedepo: Very good, that is where to be, I say all Nigerians have an equal stake, nobody has the right to claim that he is dashing something to someone, we are coming out of it, so, how is the East, generally?
Obi: East is okay. East is correct.
Oyedepo: And the Middle Belt?
Obi: It is okay, Middle Belt is okay, but places like Kogi, Kwara and Niger are worrisome places.
Oyedepo: We will get to Kwara
Obi: Fantastic, I went to Kwara and visited Olofa of Offa who told me that nobody had ever come here, with you, no problem, but the Christian community in Kwara and Niger, and I am also working in Kogi same way.
Oyedepo: Okay then, I will target this clip to them; I will make sure it gets to them.
Obi: Thank you, I will be looking forward to the release, as well, please send it to me.
Oyedepo: Okay, I will do that, God bless you.
Obi: Thank you, daddy.
However, the leaked phone conversation has thrown the LP candidate's media team into confusion. While the Head, Obi-Datti Media Office, veteran broadcaster, Diran Onifade, in a statement in Abuja, on Sunday, dismissed the audio as deep fake and a product of the propaganda machinery of the ruling All Progressives Congress (APC) a member of the media team, Kenneth Okonkwo, confirmed the authenticity of the audio.
Okonkwo's statement issued in a series of tweets on his Twitter handle a few hours after Diran's statement, however, explained that the audio was taken out of context by Obi's opponents.
Onifade had in a statement issued in the early hours of Sunday, said: "It appears the APC's desperation to grab and retain power by foul means has refused to go away more than a month after they have grabbed the election as they planned.
"While we are toeing the constitutional path to retrieve our mandate, those who have truncated the wishes of the majority of Nigerians have recoursed to mischief and endless subterfuge to continue to hold on to what they know does not belong to them.
"From the show of shame in Port Harcourt to the drama in the Ibom Air aircraft, both of which they contrived, they have now moved to the circulation of a deep fake audio file aimed at promoting religious tension in the country.
"All these are meant to serve no other purpose than egregious mischief aimed at demarketing Peter Obi. If the goal is to create a credibility problem, the ploy has failed woefully.
"Peter Obi has long been on record as the only presidential candidate, who has urged the Nigerians electorate not to vote for him on the basis of religion or tribe."
But confirming the authenticity of the same audio, Okonkwo wrote: "Our attention has been drawn to the publication of this audio tape of private conversation between Obi and Bishop Oyedepo. It is not surprising that these political criminals are trying to spin the conversation, as if Obi was making a religious statement.
"Firstly, the context of the conversation was aptly put by Oyedepo when he said 'All Nigerians have equal stake in this nation, nobody has the right to claim that he is dashing something to someone.'
"Obi was simply urging the Bishop to help him push this message of equal stake of all Nigerians in the Nigerian project to his people and the Christendom because the politicians of the other party is carrying on this campaign as if it is a religious war.
"He further explained that the traditional ruler of Offa, the Olofa of Offa, who is a Muslim, advised Obi to get the support of Oyedepo and be assured of his own support. This, he said, happened during a visit to the traditional ruler.
READ ALSO: Business Mogul Warns Ex-commissioner Against Allegation Of Stealing Abia Fund
"According to him, no politician has ever visited the Olofa of Offa. It is clear to everybody that the APC has a presidential candidate, vice presidential candidate, Senate President, Speaker of the House of Representatives, Deputy Speaker of the House of Representatives, National Chairman of the party all from one religion at a time the Chief Justice of Nigeria (CJN) is a Muslim is the party that has declared religious war on Nigerians and we must all rise up together to fight this unconstitutional act of religious intolerance of other religions by APC."
Corroborating Okonkwo, Valentine Obienyem, Obi's media aide, also said the leaked audio of his principal's conversation with Oyedepo was edited out of context. Obienyem also claimed "our Nnewi prodigal brother is responsible for the leak."
In a post on Facebook, Obienyem said: "The badly doctored conservation with Bishop Oyedepo released by our Nnewi prodigal brother is the much they have discovered so far.
"They edited out the Muslim-Muslim ticket that led to the discussion, where Obi said that in a society like ours, religious balancing was a necessary consideration and that their recklessness had made Christians to assume it was a religious war."
Alluding the leak to the National Communications Commissions (NCC), he added a committee had been formed by the ruling administration basically to monitor all the phone conversations Obi made in the last three years if he had mentioned interim government or anything related to work towards his prosecution for treason.
He wrote: "I heard they set up a committee made up of some communications experts, headed by our prodigal brother from Nnewi. They are reviewing all calls Obi made in the last three years, and especially now to see if he mentioned Interim Government or anything that will make them prosecute him for treason when and if they take over.
"Till now, they are yet to see any. The badly doctored conversation with Bishop Oyedepo released by our Nnewi prodigal brother is the much they have discovered so far. They edited out the Muslim-Muslim ticket that led to the discussion, where Obi said that in a society like ours, religious balancing was a necessary consideration and that their recklessness had made Christians to assume it was a religious war."
Festus Keyamo, who was spokesman of the All Progressives Congress Presidential Campaign Council, described the utterances of Oyedepo and Obi as shameful.
According to the Senior Advocate of Nigeria (SAN), God exposed Obi for declaring a religious war in a multi-religious and multi-ethnic country.
"Having confirmed the authenticity of what is now known as the Peter Obi 'Yes-daddy' audio, I think the real culprit here are the so-called 'men of God' who allowed themselves to be used by an unscrupulous politician to seek to inflame religious passions in our dear country in the name of politics.
"So, when they were telling their hapless adherents that they heard the voice of the Lord, it was actually Peter Obi's telephone calls they heard and not God's voice. This is deceitful, shameful and disgusting. Imagine a so-called 'man of God' comparing notes with a politician as to what he said or what he would say on the pulpit to get him votes.
"I hope this sufficiently embarrasses the 'men of God' in Nigeria to forthwith desist from using the pulpit for politics and the Church-goers to stop being teleguided by their self-serving 'men of God'.
"As for Peter Obi who declared an election a 'religious war' in a multi-religious and multi-ethnic country like ours, the real God has just exposed him and his dream to be Nigeria's President one day has just died a natural death. 'Yes-daddy' is now permanently etched in the consciousness of the nation and we will never forget it!"
Meanwhile, Oyedepo, on Sunday, said he has never campaigned for any politician or spoken to any group on their behalf.
Oyedepo said this during a service at the church headquarters in the Ota area of Ogun State. Although he did not make any reference to any audio conversation, the cleric insisted that at no time has he ever spoken to any group on behalf of any politician.
He said that politicians from different political parties in the country came to him for prayers and advice before the general elections.
He said: "Nobody had ever told me what to say in this world. No. I have never campaigned for anybody or spoken on anybody's behalf and I will not do that till I go to heaven. There is no party in this country that didn't come to me for prayers and advice.
"I advised them, some, they don't take. Those who chose to take they see results; those who said no are still going about it. If you still come again, I will still tell you, nothing will change."
While presidential candidate of the ruling APC, Asiwaju Bola Tinubu, who opted for a Muslim-Muslim ticket appeared to aggravate the worries of Christians and during the campaign, appealed to the Muslim base partly to court Northern Muslims, Obi projected himself as the frontline Christian in the race.
Also weighing in, Chairman, Senate Committee on Cooperation and Integration in Africa/NEPAD, Senator Chimaroke Nnamani, Enugu East, took a swipe at Obi, alleging that he introduced religious and ethnic politics in Nigeria.
In a statement on Sunday, the former Enugu State governor said that reviewing the activities of the just concluded elections, he came to a conclusion that "Obi deflowered the virgin innocence of political patriotism and nationalism in Nigeria. He fed our people with the sacred apple and Nigeria may never be the same again."
Nnamani lamented: "What was in whispers and hush-hush tones, Peter proclaimed loud in decibels in Cathedrals and Holy Sepulchers. The Roman Catholic dominant politics Peter mastered and foisted on Anambra people when he was a governor was a prelude to his nationwide campaigns."
Nnamani noted that Obi's religious war in garbs of Labour Party politics were nationalised and universalised for all Christian dominations among Nigerians home and abroad. "Peter proselytised do not vote for me because I am a Christian but the code was clear and its subliminal assimilation final," he quipped. (The Guardian)