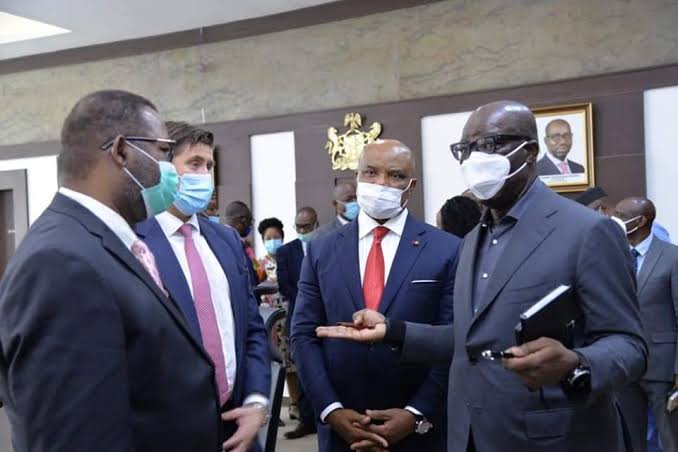 The Edo State Governor, Mr. Godwin Obaseki, has directed contractors of the Niger Delta Development Commission (NDDC) to immediately stop executing projects or undertaking contracts in the state.
Obaseki stated this on Friday, while speaking to the management team of Seplat Petroleum Company Limited, who paid him a courtesy visit at Government House, in Benin City.
He said: "We embarked on a very ambitious project by signing an agreement with the NDCC and Edo State Oil and Gas Producing Areas Development Commission (EDOPADEC), to jointly construct the Benin-Abraka Road. Unfortunately, NDDC, as usual, failed and we are going to Court. We will not allow them to operate in the State except subject to our approving every project.
READ ALSO: Gbajabiamila Reveals Identity Of DSS Aide Who Shot Newspapers Vendor
"They are only to execute projects cleared by the State Executive Council. They can't come into the state and dictate to us what they want to do here. It's our money and we will determine what we want, not them telling us what they want to do.
"All NDDC contractors in Edo State are stopped forthwith from undertaking any contract or any work in the state. We want to go back and focus on our priorities. We want to build that Benin/Abraka Road. We are re-awarding that road."
The governor told the management team of Seplat Ltd, that his government would like to go into an understanding with them to co-finance the project or the stretch leading to the company's area of operation to ensure access to good roads in that area.
Earlier, the Chairman of Seplat Petroleum Company Limited, Dr. ABC Orjiako, congratulated the governor on his re-election and subsequent swearing-in.
He also thanked the governor for the cordial working relationship between the company and Edo State Government.