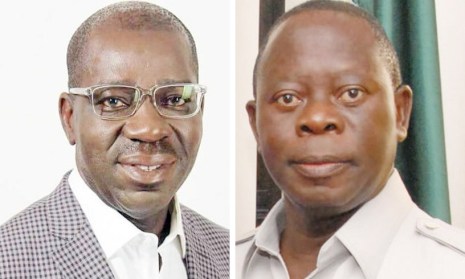 The Edo State Governor, Mr. Godwin Obaseki has condemned the attack on him, the Oba of Lagos, Oba Rilwan Akiolu, Chancellor of the Edo University, Iyahmo, Dr. Aderemi Makanjuola and others at the residence of National Chairman of the All Progressives Congress, APC, Adams Oshiomhole.
Speaking to journalists after the incident, Obaseki lamented the resort to violence, saying it was shameful for such an attack to take place at the residence of the National Chairman of the ruling party in the state and at the national level, and also a former governor of the state.
He said, "It is very unfortunate that we can't feel safe in the house of our National Chairman. I am not sure that if I visit the Chairman of the People's Democratic Party (PDP) that they will attack me the way they did in the house of the APC National Chairman.
READ ALSO: Hoodlums Attack Obaseki, Oba Of Lagos, Others At Oshiomhole's House
"It is unfortunate that things have degenerated to this extent. But we will continue to sue for peace. We cannot afford to lose the gains of the last three years. We will continue to pursue peace."
Recall that earlier on Saturday, some hoodlums attacked the trio of Gov. Obaseki, Oba of Lagos and Vice Chancellor of the Edo University, who had visited Oshiomhole's residence after attending the maiden convocation ceremony of the Edo University said to be close to the Oshiomhole's house.
Meanwhile, the Chief press secretary to the Edo State Deputy Governor, Musa Ebomhiana, has denied the allegation that his boss, Philip Shaibu, led the attack.
According to him, the deputy governor was part of Governor's entourage that was attacked and so could not have led the attack on the dignitaries.
"The Deputy Governor could not have caused the unfortunate incident that happened this evening. The Governor, his deputy, Oba of Lagos and their entourage were at the gate of the National Chairman of our great party, comrade Adams Oshiomhole to pay him the usual homage since they were in his domain.
"Surprisingly, the large crowd that gathered at the gate brutally attacked the convoy, destroying three cars in the process. The convoy had to quickly turn and came back to the varsity campus.
"So, how did the DG cause it, could he have arranged his own attack? In fact, they were there on the invitation of the Comrade himself," Ebomhiana said.