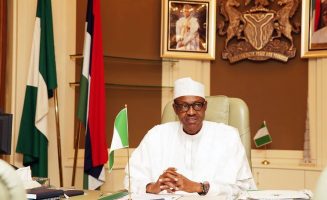 President Muhammadu Buhari has declared that Nigeria's unity is not negotiable.
Buhari made this declaration in a nationwide broadcast on Monday.
His words:  "In the course of my stay in the United Kingdom, I have been kept in daily touch with events at home. Nigerians are robust and lively in discussing their affairs, but I was distressed to notice that some of the comments, especially in the
social media have crossed our national red lines by daring to question our collective existence as a nation. This is a step too far.
Read also: Nigerian leaders react to President Buhari's return
"In 2003 after I joined partisan politics, the late Chief Emeka Ojukwu came and stayed as my guest in my hometown Daura. Over two days we discussed in great depth till late into the night and analyzed the problems of Nigeria. We both came to the conclusion that the country must remain one and united.
"Nigeria's unity is settled and not negotiable. We shall not allow irresponsible elements to start trouble and when things get bad they run away and saddle others with the responsibility of bringing back order, if necessary with their blood.
"Every Nigerian has the right to live and pursue his business anywhere in Nigeria without let or hindrance.
"I believe the very vast majority of Nigerians share this view."
It is the first time the president would be speaking to Nigerians in a national broadcast since he returned to the country on Saturday.
Recall that the president spent over 100 days in London on medical vacation.
He left the country on May 7, shortly after he received 82 Chibok girls< released in a swap deal with some members of the terrorists group, Boko Haram."
*Full statement coming