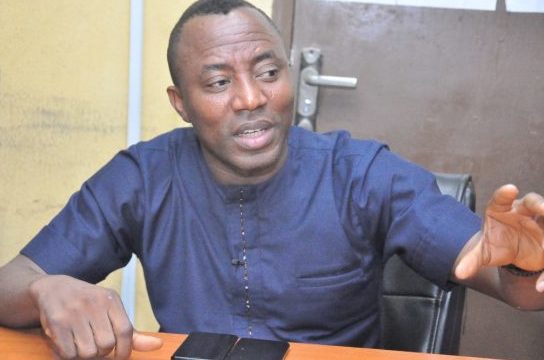 Nigerians woke up Saturday morning to the breaking news that Omoyele Sowore, convener of #RevolutionNow Protests, has been arrested.
The arrest was made known via a tweet by Sowore himself, before his phones were allegedly taken by the operatives of the Department of State Services, DSS, who effected the arrest.
Though no official reason has been given for his arrest, it is believed to be in connection with the #RevolutionNow, a series of planned protests against bad governance in Nigeria scheduled for August 5, 2019.
Since the news broke, Twitter users have been vocal in condemning the action of the Federal Government and in their call for his release.
Below are some of the reactions:
@crownmed:
"Nigeria government can arrest those who are agitating for good governance but they can negotiate with Boko Haram, bandits and kidnappers, herdsmen even assuring us that Boko Haram can become Nigeria president."
@Evang_IsaacObas:
"@MBuhari Has Shown He's A Sophisticated Fraudster Dat Doesn't Want Any Opposition By Arresting @YeleSowore But Nig Are Awake
#RevolutionNow #FreeSowore @ShehuSani @olushola_shola @benmurraybruce @anthonyfjoshua @iam_Davido @aishambuhari @AmnestyNigeria @Realomosexy @PeterPsquare"
@lshayaRibah:
"#FreeSowore
I had said I'll never criticize this government again but umbanu…. They just keep getting low every time
#PrayForDadiyata
#FreeSowore
#NotMyNigeria"
@sheyiretor:
"Sowore arrested for wanting a revolution, killer herdsmen walking free 4 killing Innocent people, Boko Haram members freed for claiming repentant.
Nothing can stop an idea dat has come to stay! Revolution we seek, Revolution we will get
#FreeSowore
#RevolutionNow
#BuhariIsACoward"
@jharmo:
"Just Confirmed that one of the leaders of the #RevolutionNow movement Comrade Omoyele Sowore @YeleSowore has been arrested by armed men of the DSS overnight. Those who make peaceful negotiations impossible makes violent revolution inevitable. It has started.
#FreeSowore"
@ifemosunmichael:
"Daura Secret Service boys DSS arrested @YeleSowore just because of #RevolutionNow. How could @AsoRock under @MBuhari Honour and Free BokoHaram members whereas arrest Innocent citizens with right to Protest? This is indeed a Draconian move and Nigerians will resist it. #FreeSowore"
@alabz_J:
"@YeleSowore should have gotten a premonition that this was coming.
Obviously, there's nothing like Freedom of Speech, Life and Expression.
Apparently, we don't have a Leader in this country, we have dictators.
#FreeSowore"
@DemystifyNg:
"Nigeria has become a safe haven for everybody except it's citizens and the truth-sayers. Thieves in Agbada are looting us dry and passing laws that only enrich their pockets and that of their cronies #FreeSowore"
@Omojuwa:
"Nothing could be more daft! Of all the actions to take against a constitutionally and legally backed protest, the last should be an arrest of the convener. #FreeSowore"
@OgbeniDipo:
"I also add my voice unequivocally to those demanding for @YeleSowore's release. Free speech and assembly are enshrined in the constitution of the Federal Republic of Nigeria. #FreeSowore"
@BhadmusAkeem:
"Omoyele Sowore's residence in Ikeja evaded around 1:25am, 3rd of August, Sowore arrested by DSS, phone seized.
"Yesterday, 2nd of August, Abubakar Dadiyata was abducted by the DSS in Kaduna.
"Who is next? Could be me or you. Speak out NOW!!! #FreeSowore #FreeDadiyata"