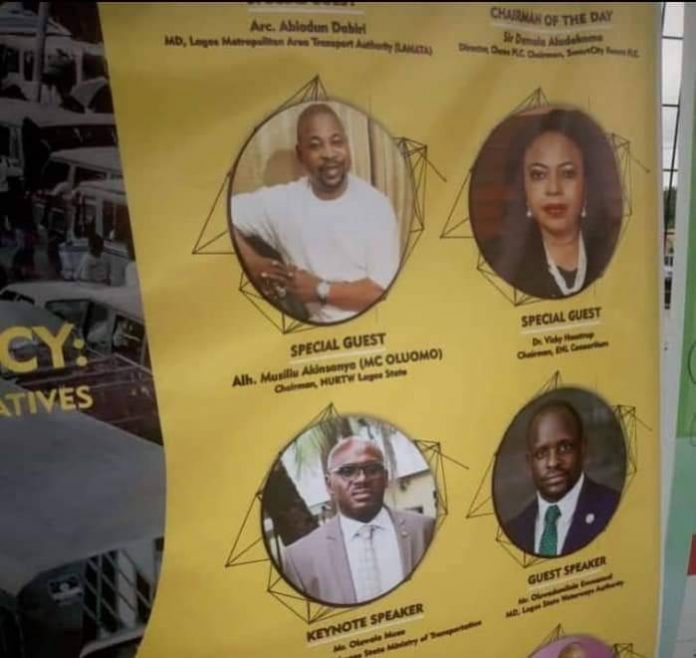 Nigerian Social media has gone into a frenzy at the emergence of the poster of a University of Lagos (UNILAG) event, which has chairman of the National Union of Road Transport Workers (NURTW), Lagos State, Musiliu Adesanya aka MC Oluomo, as one of the special guests of the day.
Nigerians on Twitter questioned the message being sent to young minds by inviting him to the institution.
Those offended by the invitation extended to solely NURTW boss base their objection on his well known fraternization with thugs and street urchins or 'agberos' in Lagos.
Others supporting the idea however, see him as having many years of experience in the field of transportation which many can benefit from.
Below are some of the tweets.
@iSlimFit
"I don't see anything wrong in UNILAG inviting MC Oluomo to come speak at an event organised by their transport department. Mc Oluomo is educated in his field."
@OkeStalyf
"It's not about what MC Oluomo knows but what he represents. There are founders and owners of Transportation companies who could have been invited rather than him."
@Babypeng_
"Mc Oluomo will contest a Lagos guber election in the nearest future, and your fav intelleshuals and celebs will campaign and vote for him.
That is how unprincipled they are."
@IAmkuffz
"First and foremost, MC Oluomo is human. Being uneducated doesn't make him less of a human and you do not have an idea of what knowledge he is going to share if at all he is going to speak (even though the poster says "special guest" and not "speaker")"
@Zaddy_nomso
"They are prepping you people for MC Oluomo as Governor in 2027 & you people are complaining. You think he is an illiterate, Has he shown you his Affidavit? Get used to seeing his Face because you will keep seeing it dears 🙂"
@SmithVinci
"Nothing wrong with MC Oluomo getting invited as a Guest speaker at Unilag…
He is good at whatever he is doing as NURTW Chairman….still a thing or two to learn from him.
Moreover…Unilag has a lot of potential thugs..🤣😂
So catch them Young…"
@Elcruxificio
"Saw MC Oluomo trending, checked and I've been laughing my ass off since.
See ehn, maybe I have lost every fight in me, but I have come to terms with the fact that everything is possible in Nigeria now."
@MusicalCritic
"MC Oluomo(A Transport Union Illiterate Thug) invited as a guest speaker on Unilag Campus.
You can even see his picture before that of the woman with a PhD 😭
The rottenness, the decay in Nigeria is beyond imagination 😭"
@chikanels
"Why are we angry that Mc Oluomo is a keynote speaker in a Unilag event?
Let's learn to not Underrate people in this country please,
If someone without a Certificate could be President, an Agbero could lecture in a University.
Nigeria is a Country of all possibilities."
@FifunmiRexx
"University of Lagos inviting a thug, MC Oluomo as a guest speaker & people are saying it's cos he is knowledgeable. On what?
No wonder we call on past leaders who have looted & destroyed this country before to still lead us now cos a person's image isn't relevant in Nigeria."
@DavidHundeyin
"So MC Oluomo is a "Special Guest" at a university event.
As @EuginhoCortez likes to say, we will surely reap the outcomes we are currently sowing.
What this clearly tells kids is that thuggery and anti-intellectualism are to be rewarded with high status in Nigeria.
Well done✊🏿
There wasn't one tech founder or TV personality or otherwise harmless and positive person to invite. It was the guy who literally has thug rivals appearing in YouTube videos begging him not to kill them. That's who was a suitable "Special Guest." At a university.
Later on when the world treats us a certain way, we get all bent out of shape and emotional, because somehow we imagine that the whole world cannot see what we do everyday.
The very platform I'm typing this on is hosted in San Francisco. The world is watching us.
Keep sleeping."
@nwaoma007
"MC Oluomo is being positioned for Lagos State Governor. There's a PR machinery building a new image of him. The other time was the pictures with a governor of an American state at some award with his son. Recently many posters around Lagos thanking NURTW for their support."
@bayonuels
"MC Oluomo will give Unilag 5M
Those that invited him together with the ogas will share 3M
They will give the remaining 2M to the institution
10 students will vow to be like MC Oluomo after graduation
At least 7 will eventually be
The evil of today will produce evils tomorrow."
@d_problemsolver
"MC Oluomo has no business in this kinda gathering.
Unilag just proved to us that education is a waste of time.
Nigeria education is totally messed up."
@newscantell
"MC OLUOMO will be appearing as a special guest at UNILAG.
A known thug & political weapon of destruction getting called to appear in front of students.
This only proves education isn't everything. The students who're on the path to thuggery will have firm assurance that thuggery is the right path since MC Oluomo is getting called up both internationally & locally.
Also, I'm surprised some don't see the negative effect of this & strongly backing it up.
Soon, we'll reap every decision going on and we've refused to fight against."
@QdPaper
"Unilag inviting MC OLUOMO as a special guest. 👀
Will MC OLUOMO speak English or Yoruba ?
Student will start seeing MC OLUOMO as their role model. 🤗
It's only in Nigeria somebody who got no degree will be invited as a guest in a university to represent what?"