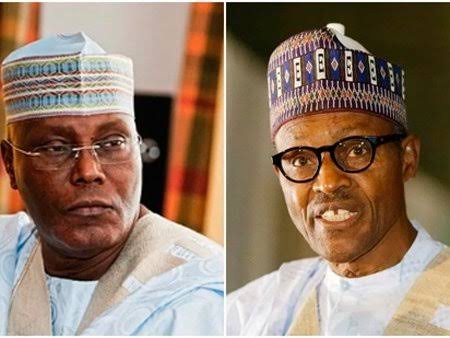 Nigerians have been reacting to the dismissal of the Peoples Democratic Party and its Presidential candidate's suit challenging President Muhammadu Buhari's re-election.
The PDP and its candidate, Atiku Abubakar had in their petition claimed that Buhari lacked the academic qualification to contest for the office of the President and that his votes were inflated.
However, in a long drawn out judgment, on Wednesday, the tribunal held that President Buhari was duly elected in the in the Feb. 23 elections.
Below are some of the reactions on Twitter:
@tboss_guy
"Atiku should just give up. It is finished. We have been scammed.
#PEPTJudgement"
@TheRealUchman
"Summary of today's #PEPTJudgement is simple…you don't need to have a certificate to run for any office in Naija. Just tell the public you don't have it anymore and ask for their pardon and that's fine."
@BADMAJOR85
"Case closed. Good riddance to bad rubbish. Wailers should start wailing profusely. Atiku will never come."
@eluchay12
"That is how northerners got into army, can u imagine a principal recommeded PMB to army that next year oooo baba would do WAEC and bring result but up till now no result yet .
#PEPTJudgement"
@UgochiEaglees
"That's why you will spend 4-5yrs in the university, 1yr Service and Chinese and other Asians will employ you and pay you 20k for years without staffing you and even fire you for no reason. After all you don't need to go to school to become a president in Nigeria #PEPTJudgement"
@fa4our
"I expect Atiku to head to the supreme court, more dollars to fall on his yahoo-yahoo team of lawyers. #PEPTJudgement"
@Mcklose10
"Buhari is still president,
can we all continue with our lifes now..
#AtikuBusted
#PEPTJudgement"
@ropyjay
"My only joy is that in all this mess called election process and tribunal, Awon boys and 'many men' pocketed money from the useless politicians. With their harshtags and all."
@yemitwist
"Even the judicial system of Nigeria is f**ked.
#PEPTJudgement"
@Haykay_XLVII
"#PEPTJudgement I said it earlier Buhari is gonna win. This is Nigeria #PowerIsPower. In Nigeria, u just have to be corrupt and you are gonna go all the way up. Skul wont teach u about corruption. Its our way of life here in 9ja. GOD BLESS NIGERIA."
@MayorSpeaks
"Is Kemi Adeosun eminently qualified to hold the position of finance minister? The answer is A BIG YES. But she could not prove she did NYSC so she was asked to leave.
So whats up with PMB ?
#PEPT #PEPTJudgement."
@SirFemxy
"Forget all these rehearsed judgement. What Nigeria needs is either a revolution or military takeover. Kill all them politicians, use their blood for the cleansing of the country. And we can all start on a clean slate & add death sentence for stealing public fund. #PEPTJudgement."
@yariycuba
"Dismisses, is what ends Atiku that can't come🤣😅🤣😅🤣. Make him go deh come inside his wife. #AtikuIsNotComing
#PEPTJudgement"