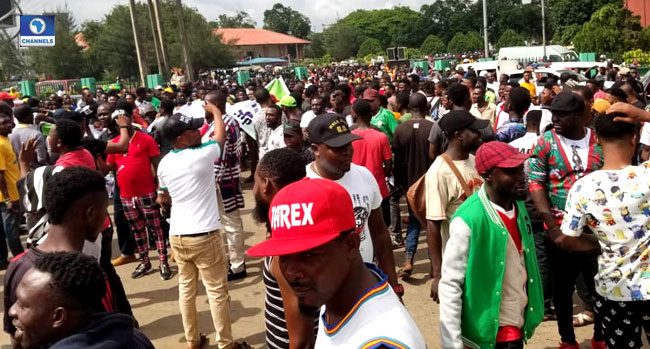 President Muhammadu Buhari on Friday reacted to the ongoing protest in parts of the country pushing for the outright ban on the police Special Anti- robbery squad, SARS.
In a tweet on his verified account, Buhari said he had met with the Inspector-General of Police, Mohammed Adamu and told him to "conclusively address the concerns of Nigerians" regarding the excesses of police personnel especially, SARS.
Below are some reactions from Twitter users;
Kelvin Odanz @MrOdanz: "Is SARS still in existence or not?That is the important question.We don't care about your meeting and press release and any other public pandering
"All we want is for you to #ENDSARS.We want to walk the streets tomorrow and not see any criminal wearing the SARS uniform.C'est fini."
Out of context Naija @OutNigeria: "@MBuhari I know you can't fight corruption, nor can you provide good governance but please just end sars, I swear to go I no go demand for anything again. Just freestyle till 2023 and beyond if you like. End those mofos"
READ ALSO: #ENDSARS: Omo-Agege Condemns Killing Of Police Officer In Delta
SOMEONE SAID @somebody_Said_: "Buhari please act Now!"
"It's in the best interest of the masses that you #EndSarsNow.
"We all know how quickly you responded when Yusuf your son had an accident. Please act now with the same alacrity.
"Youths are dying for:
– driving Benz
– Using Iphone
– wearing Designers"
Samonip @Iam_samonip: "But for you to work things out in your own regime I will like to advice you Mr president @MBuhari that you should send out some of your agents to look at what's going on within your country called Nigeria before you can take steps. Youths aren't smiling"
Musa Umaru Yar'adua @ Mosey: "For where? This is just a big LIE. Anyone who has ever lived or visited this country knows this a total fabrication. Our President won't even admit the problem exists. So damn lousy."
DADDY'S BOY@askarach: "Look at their barracks, look at their salary, these people are just trying to make ends meet and it's the fault of this shabby government. That's why they're extorting and killing innocent youths because the system has no tangible plans for them. #EndSARS #EndSarsNow"
Oluwalobamise @bam_shey: "Say na freestyle till 2023
"I'm gone o ?"
Da Prince @prince85million: "He said the same thing in 2018….killings just increased no changes"
Aisha Sallam Hashim @Aysher_Sallam: "@MBuhari You're the best thing that has ever happened to Nigeria, is a blessing to have such a person as our president. The way you always listen and respond to the calls of Nigerians is just amazing. My prayers to you is may God continue to guide and protect you. #ReformSARS"
DEMARGOGUE Phd. @Von_Bismack: "We elected the worst to rule the best of us.
"May affliction not arise the second time!
"SARS can't be scrapped, they help in terror war"- IGP
SULE ILIYASU @sule_iliyasu: "You see. This is why i won't support EndSARS totally, just take SARS to the NE, Zamfara to fight bandits and the creeks of ND, let them give those inhuman treatments to terrorists and leave human beings alone."