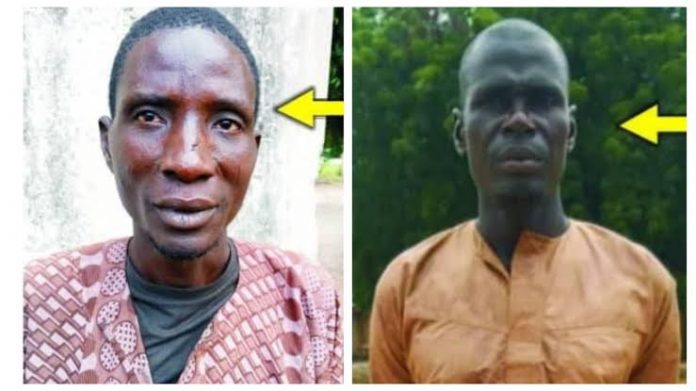 The Nigerian Army have arrested two members of the Boko Haram terrorist group who have been on its most-wanted list.
The arrest of the Boko Haram members was effected by the combined troops of 26 Task Force Brigade, elements of Civilian Joint Task Force (CJTF) and 21 Special Armoured Brigade.
This was disclosed in a statement signed and released by the Defence Headquarters.
The statement disclosed that the wanted sect members identified as Lawan Abubakar Umar Garliga and Bayaga Manye (on serial 41 and 90 respectively of the Nigerian Army most wanted Boko Haram list) were arrested alongside 14 others during a sting operation against the sect members hibernating around Pulka general area of Gwoza LGA, Borno State on October 20.
READ ALSO: 847 Soldiers Killed By Boko Haram, Buried In Borno Cemetery – Ndume
According to Naija News, other Boko Haram members arrested during the operation include; Alhaji Umaru (a Boko Haram Logistics Supplier), Goni Agwala (Boko Haram Logistics supplier), Momodu Shetene (Boko Haram Logistics Supplier and bicycles repairer), Hassan Audu (Boko Haram Logistic Supplier), Usman Manye AKA Yega ( Boko Haram Logistics supplier ), Ali Lawan (Boko Haram Logistics supplier) and Modu Mallum (Boko Haram Logistics supplier).
Others are, Modu Abubakar Jugudum, Bulama Ali, Umar Usman, Mustapha Alhaji Mele (Boko Haram Rifle man and vulcanizer), Abor Lassan, Mallum Ari and Mala Bala.
Source: Naija News