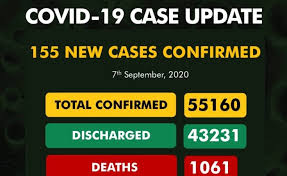 The Nigeria Centre for Disease Control (NCDC), said Nigeria on Monday recorded 155 new cases of Coronavirus.
It also announced that four persons died from the disease on the same day.
In its update late on Monday night, the health body said: "Till date, 55160 cases have been confirmed, 43231 cases have been discharged and 1061 deaths have been recorded in 36 states and the Federal Capital Territory."
READ ALSO: Serena Battles Through Tension-Filled U.S. Open Fourth Round
The 155 new cases were reported from 15 states and the FCT with Lagos recording the highest number, 42 followed by Plateau with 25 and Rivers with 16.
Other states that recorded new infections on Monday include: Ebonyi (10), FCT(9), Abia (9), Ogun (9), Osun (7), Katsina (6), Kaduna (6), Ekiti (4), Taraba (4), Edo (3), Anambra (2), Akwa Ibom (2) and Kano (1).