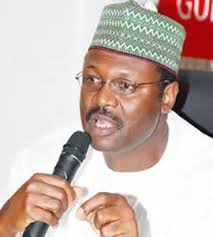 INEC boss, Mahmood, said there was hope that the 2019 election budget would be passed by the National Assembly next week.
The National Assembly may reconvene to consider the N242 billion budget for the 2019 general election.
The National Chairman of the Independent National Electoral Commission, INEC, Yakubu Mahmood, made this known in Abuja on Wednesday shortly after a meeting with the leadership of the National Assembly.
The meeting was scheduled to hold earlier on Tuesday but for the siege laid to the National Assembly by the operatives of the State Security Service, SSS.
Yakubu who spoke with journalists said the National Assembly had expressed its commitment to ensuring an efficient general election.
READ ALSO: NYSC: Unauthorised journeys remain banned – Kazaure
"The most important thing to say is that INEC was invited to meet with NASS leadership on how the proposed budget for the 2019 elections can be speedily considered and appropriated by the National Assembly.
"We have been assured of speedy passage of the budget, perhaps as early as next week. N242 billion is the total amount proposed," the INEC boss said.
Praising the leadership of the National Assembly for the meeting, Mahmood said it was confident that the plans for the coming general elections were on course.
According to him, the meeting had given assurance that the election would be supported with the needed fund.
Said he:  "We have from today, exactly 191 days to the opening of polling units at 8 a.m. on Saturday the 16th of February, 2019.
"There are activities that we have to undertake for a minimum of six months to the election date.
"Six months to the election date kick starts from 15th of August, which means we have only eight days to the commencement of these activities.
"We are confident that with this meeting, all the grey areas will be ironed out and as we are concerned, our component of the cost of the election will be speedily appropriated by the National Assembly.
"This is the first time in the history of our election that the budget for the election will be subjected to approval by the National Assembly this way.
"We want to thank you for the reassurance that the commission will not be constrained in any way in the conduct of the election."