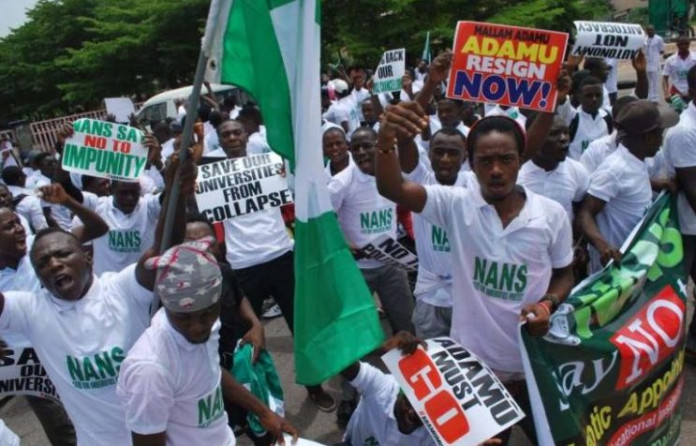 The National Association of Nigerian Students (NANS) Abia Chapter, on Monday, staged a protest on the streets of Umuahia, the state capital, against the ongoing ASUU nationwide strike.
The students carrying placards with different inscriptions, appealed to the Federal Government to negotiate with the striking teachers in order to quickly end the action.
The Academic Staff Union of Universities, ASUU, had embarked on a nationwide strike on November 5.
Some of the placards carried by the protesters read: "Government don't commercialise education," "Save education, save the future," "Seven per cent budgetary allocation is a misplaced priority," amongst others.
READ ALSO: Armed robbers kill 4 in Ekiti bank attack
Representative of NANS in the South East Zone, Cokey Nwachukwu, said that the students were tired of staying at home and wanted to return to school.
His words: "Some of us are supposed to be doing four or five-year courses but as it is now, the years are likely to be extended because of the strike.
"Most of us that are supposed to be mobilised for the National Youth Service Corps are now sitting at home.
"Very soon, they will tell us they are going for general elections and will alter our academic calendar."
He equally used the opportunity to call on the Federal Government to urgently address the insecurity in the country, especially in the North-East saying that most of their members in Kaduna and some other parts of the North were no longer in school as a result of Boko Haram activities.