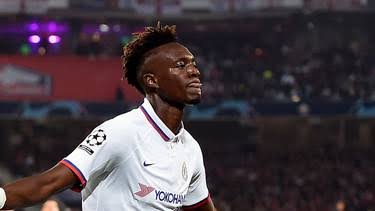 Tammy Abraham has insisted that his international dream has always been to represent England.
The Chelsea striker is in line for his competitive England debut in the Euro 2020 qualifiers against the Czech Republic and Bulgaria having been given an international recall by England manager Gareth Southgate last week.
Nigeria have tried desperately to persuade Abraham to play for them – and the striker had initially refused to publicly state which country he wanted to play for.
But following his Southgate call-up, Abraham has confessed his first choice option has always been to represent England.
Abraham, who has scored nine times already this season, has two friendly caps for England, but will be fully committed for the rest of his career if he features against either Czech Republic or Bulgaria because they are competitive fixtures.
'For me, it's always nice to be wanted by two nations. Clearly it means you're doing something well.
'At the back of my head, I've always wanted to play for England. I was born and grown in England.
'My dream was always to play for England. It doesn't effect the fact Nigeria still wanted me, and it's a big nation. I love both nations. My head was just screwed on with England.
READ ALSO: England Calls Up Abraham, Tomori, Drop Alli, Lingard
'I'm here and I'm ready to stay. I want to do the best I can. That means playing well, for club and country.
'Just hopefully I can get many years experience under my belt for England,' he said.
Despite his brilliant start to the season, Abraham will almost certainly start both qualifiers on the bench given captain Harry Kane is England's undisputed No 1 striker.
But the 22-year-old hopes Kane's magic will rub off on him.
The striker said: 'I can learn from Harry, I've come here to steal his ideas. Harry Kane is one of the best strikers in the world. I've come to learn the other parts of his game, and add it to my game as well.
'You see his finishing, left foot, right foot, I just want to take that into my game. So when I go back I can work on myself and practice. Harry's someone I've grown up watching.
'For me he's the best striker in the world. I was always excited to come here, to watch him train, to train with him, and hopefully maybe play with him as well. He's always going to be my idol.
'I'm here to stay, to do well, the best I can, I'm here because right now I'm doing so well, top goalscorer in the league. Hopefully I'll get my chance and take it.'
Source: Mail Online