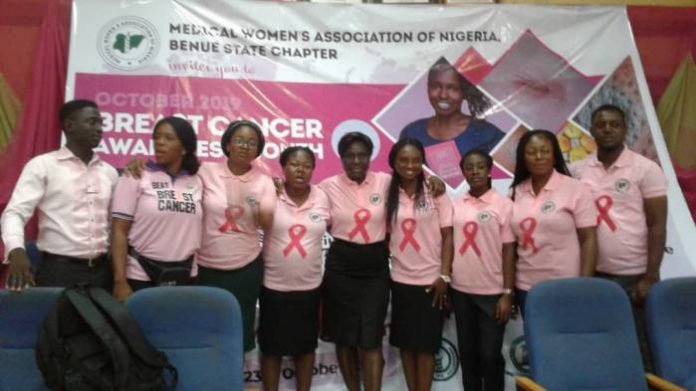 Medical Women's Association of Nigeria, MWAN, Benue state chapter on Wednesday held a Breast Cancer awareness campaign to sensitize the general public on effects of cancer and benefits of self examination.
The Campaign which began with a walk, kicked off as early as 8 a.m from the Federal Medical Center, FMC, Makurdi, to College of Health Sciences, Gboko road, venue for the event.
In attendance were men and women from across the length and breadth of the state.
Addressing guests, the convener of the Programme, Mrs. Enye Agada harped on the dangers of cancer to mankind with particular reference to women and advised against self denial saying people must own up and seek help on time to save their lives.
According to her, "when patients open up on time, they stand high chances of survival." She said that late detection may amount to amputation of the breast or even death of the victim.
Agada however, stated that "if the victim's breast would have to be cut off for him/her to survive, it is better than losing a life."
READ ALSO: We Will Engage Retired Medical Personnel To Improved Healthcare – Mrs. Sanwo-Olu
She therefore called on all and sundry to pass the message across for a cancer free society.
Earlier, a cancer survivor, Pharmacist Mnena Lan spoke on her experience and how she survived cancer attack after undergoing a surgery, five years ago.
She urged people to desist from attaching fetish beliefs to cancer attacks and to desist from visiting herbalists and chemists when they find themselves with such cases but rather avail themselves for proper medical examination and treatment saying cancer is not a respecter of age or status.
"Cancer is real. It is not a respecter of the rich or the poor, the old or the young. So, when you see any sign, go to the hospital for proper examination and medical attention," she said.
The walk and seminar was organized to mark the 2019 Cancer Awareness Month.