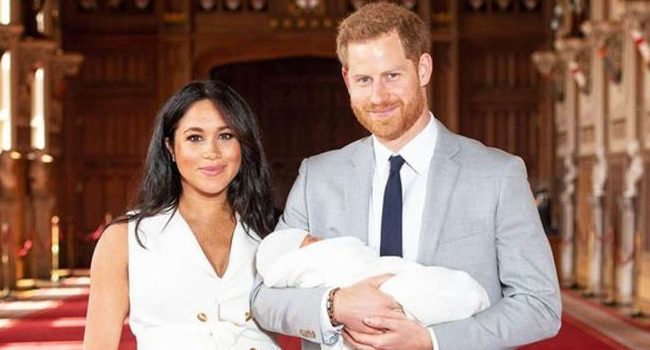 Criticisms have trailed the decision of Harry and Meghan to christen their newborn baby, Archie privately, contrary to his brother's choice during the christening of his children Prince George, Princess Charlotte and Prince Louis where trusted media contingent would be allowed to film and photograph the family and guests entering the church and leaving.
But over the weekend news broke that new parents Meghan and Harry might break with tradition and seek to christen their two-month-old baby away from the media glare.
"The Duke and Duchess of Sussex are understood to be planning the ceremony (this)weekend, July 6, 2019, away from the public and the cameras," a very snippy Express reports.
"Although unconfirmed by the Palace, royal insiders believe the ceremony for Meghan and Harry's firstborn is set to take place on July 6, at St. George's Chapel in Windsor, where they married last year."
Also unconfirmed, as yet, by the Palace is whether the media will be invited or not.
This report mirrors one in the UK's The Times which notes that privacy is paramount to Harry and that he's keen to balance royal duties with protecting his son.
"His parents are determined to raise him as a 'private citizen,'" The Times says. "The Duke and Duchess of Sussex are sticking to their plan of 'shielding' him from the public."
But royal biographer Penny Junor told The Times that Meghan and Harry can't play both sides, especially when it was the public purse that picked up the tab for millions of dollars in renovations recently undertaken at the pair's Frogmore Cottage home.
The public wants bang for their buck, Penny notes, and that means seeing more of Archie, Meghan and Harry. Not less.
"They can't have it both ways. Either they are totally private, pay for their own house and disappear out of view or play the game the way it is played."
"Seeing Archie and his godparents arriving at the christening is what people are interested in; it isn't baring your baby's soul, just giving the public who love and support them a crumb to enjoy."
"If they want it to be really private, hold it in a parish church, not St George's Chapel where royal ceremonies are held," Penny suggested.