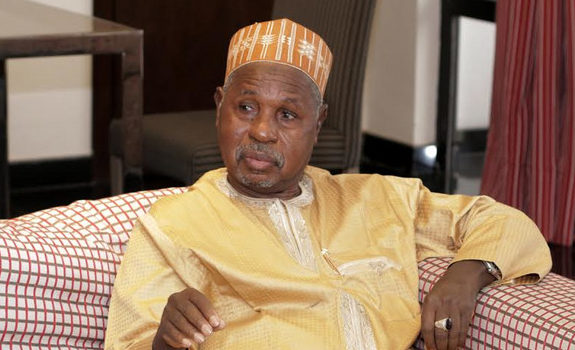 Governor Aminu Bello Masari of Katsina has asked the military to beef up security, lamenting how bandits raid 10 of the 34 Local Government Areas of the state on a daily basis.
Speaking when he received the Chief of Army Staff (COAS), Lieutenant General Faruk Yahaya, at the Government House, Katsina, on Thursday, Masari said he is worried about the situation.
He said the military and other security agencies need logistics support and manpower to tackle banditry and other insecurity challenges.
The governor called on the security agencies to redouble their efforts so that military could go back to the barracks while the police assume their law enforcement responsibilities.
We are not happy
"We here in Katsina, if we say we are very happy, we are not being honest. We are disturbed with this issue of banditry accompanied with kidnapping, raping of innocent women, armed robbery on our highways.
"I want technology to be properly deployed to bring this banditry activities under control. We are not deceiving ourselves that we will eliminate criminality; it has never been done before, it cannot be done today rather can it be done tomorrow but we can bring it under control in such a way that it does not disturb the way of life of people as we are seeing today.
"10 out of 34 local governments in Katsina State are under severe bandits attacks daily. So, with that in mind, there is no way we can sleep. Our phones are permanently on to hear what is happening in local governments. Before breakfast, I am briefed about what happened last night. So General we are not in a very comfortable situation but we thank God."
COAS thanked people of Katsina
Yahaya appreciated the logistics support and cordial relationship the military enjoys from the government and people of Katsina.
He said he was in the state as part of his operational visit to the North West.
"I am here on operation visit to 8 division and formations and units under command, having assumed command of the Army in May. We all know the circumstances under which it happened when we lost our able COAS then, Maj. Gen Attahiru.
READ ALSO: PDP Governors Call For Calm As Seven National Officers Of Party Resign
"As usual, after assuming Command, also go to the ground to see troops and interact and see what they are doing, to appreciate them and appreciate their challenges even though we know them, but there is always a difference when you interact one on one.
"I am here to appreciate and thank you, the troops always brief us on the tremendous support they are getting from you in terms of logistics, equipment and more particularly advice, as the chief security officer who knows it all and also feel the pinch.
"I most sincerely thank you for all that and to request Your Excellency not to rest in his continued support.
"We also bring with us more synergy and cooperation with other sister security agencies and even civil authorities where we integrate their knowledge and experience on the ground which are key to our activities," he said.
Daily Trust