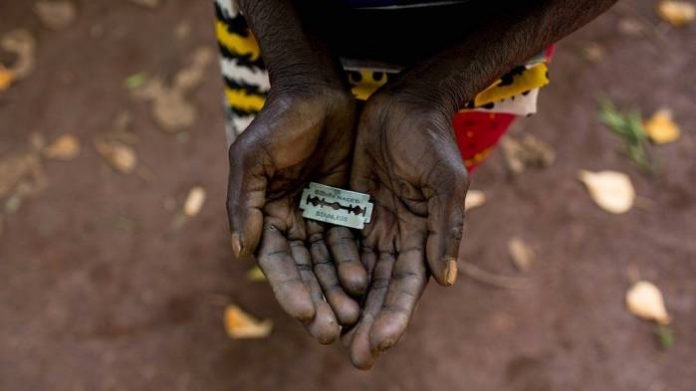 An Osun State indigene, Olushola Mohammed Lawal, has called for help over attempts by his relatives to forcefully circumcise his daughter.
Lawal said his aunties had vowed to circumcise his daughter, Ayomide before her first birthday to fulfill what they called an age-long family tradition.
Female genital mutilation, according to the World Health Organisation (WHO), is "all procedures that involve partial or total removal of the external female genitalia or other injury to the female genital organs for non-medical reasons."
In most parts of Nigeria, it is carried out on minors, mostly without parental consent.
Female genital mutilation numbers are the highest in Osun State at a rate of 76.6 per cent.
Lawal, who is married to Faiza, said Ayomide came after years of infertility and miscarriages.
He said that as soon as she arrived, his aunties approached him to carry out circumcision on the baby during the naming ceremony.
READ ALSO: Police Arrest 19-Year-Old Kidnapper While Collecting N2m Ransom
"They told me that it is the family's tradition and it must be done before she is one to protect her and make her fruitful when she is married," he recounted.
The procedure is a thing of joy and pride to all females in the family, they insisted, pointing out that nobody has been able to avoid it without consequences.
Although Osun State enacted a law prohibiting female genital mutilation in 2004, recommending to prosecute offenders to a year in prison, a fine of N50,000 or both on first conviction, the law has had little or no effect in reducing the numbers.
This is attributable to the secrecy attached to the procedure, as well as lack of informed knowledge on its disadvantages.
Lawal said his relatives had sustained pressure on him to present his daughter for circumcision or face the music.
"This is troubling my wife, who is from the North. My aunties have isolated her, accusing her of being the reason the process has not been done.
"She is very much afraid, such that we have started avoiding family functions to prevent confrontation. Our daughter will clock one shortly and we don't know what will happen," he said.
He urged Nigerians to save his daughter from a primitive tradition he believes is not good for his daughter. (Daily Trust)