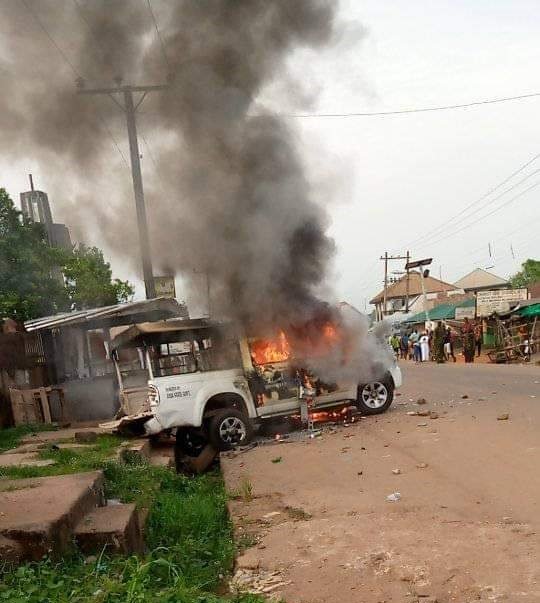 Tragedy struck in Ebem community and Elu Ohafia of Abia State as the personnel of the Ohafia Police Station allegedly shot and killed a youth identified as Innocent Friday, on Saturday.
The NEXT EDITION gathered that the youth was shot at the main motor park, Ohafia Local Government Area of the state.
Speaking to our correspondent on telephone, Governor Okezie Ikpeazu's aide on youth mobilisation, who is from Okagwe, a neighbouring village from Ebem,  the epicentre of the crisis, Kalu Achi, popularly called Kalusha, said he had not been briefed on the matter, although he had heard about it.
Kalusha said information at his disposal had it that the incident occurred when a vehicle was off loading passengers amidst complete lockdown in parts of the state due to the Coronavirus pandemic.
He said he was not sure whether the deceased was a passenger in the vehicle, but was allegedly caught in the melee.
"I have heard of the incident but I don't have a full knowledge of it. I heard this happened when a vehicle was offloading passengers and the boy was allegedly killed by the police.
"But, what I don't know is whether he was a trader or a passenger in the said motor," he said.
READ ALSO: Outrage As Police Vehicle Hits, Kills Woman, Injures Others In Jigawa
Kalusha warned youths to desist from trouble, even as he said that police would be in the best position to explain further what happened.
However, efforts to speak with the police in Umuahia yielded no success, but a community leader in Ebem, Inyima Uka, said since the lockdown, police had been terrorising residents, noting that although he was not at the place when the incident occurred, he had been briefed that police actually shot and killed the deceased.
"I can tell you that since the lockdown over the COVID-19, police have been threatening the youths and that is not right.
"While I condemn the wanton destruction of police properties by the youths, I have been told that it was the police that shot and killed the boy and that is very unfortunate," he lamented.
However, moments after the death of the boy, hell was let loose as the youths of the community unleashed mayhem, burning properties belonging to police.
Also, a police vehicle belonging to Nkporo Police Station, a distant community from Ohafia, was also burnt as the youths marched through adjourning streets and communities within the local government.