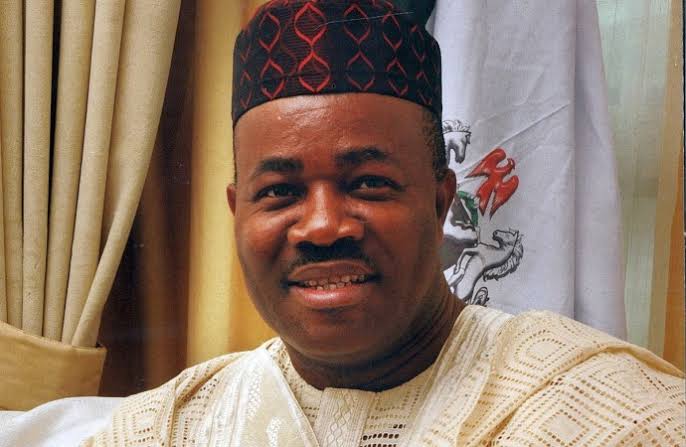 The ruling All Progressives Congress (APC) has no candidate for Yobe North senatorial district, placing a lid on Senate President, Ahmad Lawan's ambition to return to the Red Chamber next year, the Independent National Electoral Commission (INEC) declared, yesterday.
INEC, which released the final list of candidates for presidential and National Assembly elections, last night, however, published the names of former Minister of Niger Delta Affairs, Goodwill Akpabio, for Akwa Ibom Northwest senatorial district and Ebonyi State governor, Dave Umahi, for the Ebonyi South senatorial seat.
In addition, in what looked like ignoring his critics, the APC presidential candidate, Asiwaju Bola Tinubu, retained Kashim Shettima as his running mate for the 2023 presidential election.
The trio of Lawan, Umahi and Akpabio had chosen to pick Senate tickets for Yobe North, Ebonyi South and Akwa Ibom Northwest senatorial districts respectively, after losing out at the APC presidential primary.
The move had sparked controversy since most Senate primaries had been conducted before the presidential primary. Also, in its earlier publication, INEC refused to publish the name of any candidate for the party in the affected senatorial districts.
For Lawan, he has been battling his party man, Bashir Machina, over who would represent the senatorial district in the next election. In the final list published by INEC, no name was listed for the APC as a candidate to contest the Yobe North senatorial district.
Also, despite his purported expulsion from his party, the presidential candidate of the African Democratic Congress (ADC), Dumebi Kachikwu, made INEC's final list.
Kachikwu and seven others were expelled by the immediate past National Chairman of the party, Ralphs Okey Nwosu, over alleged anti-party activities.
But a statement by INEC National Commissioner and Chairman, Information and Voter Education Committee, Festus Okoye, following the release of the final list, said the Commission decided to recognise both Umahi and Akpabio as candidates for their respective senatorial districts based on court orders.
For Akpabio, the Commission based its decision on the ruling of a Federal High Court, Abuja, last week, which ordered it to accept and publish Akpabio's name as the APC candidate for Akwa Ibom Northwest senatorial district.
Ahead of the general elections, ex-President Goodluck Jonathan has warned politicians and their parties to eschew violence, saying Nigeria must exist before having the next president. He stated this yesterday in Abuja at the 2022 Peace Conference organised by the Goodluck Jonathan Foundation.
The former president called on those seeking elective positions to protect Africa's most populous nation from being destroyed.
According to him, those interested in becoming president, governors, and legislators have roles to play in preserving the nation's democracy.
"We must have a state before you talk about having a President or a governor. If you destroy the country, then where do we need a President?" he said.
"Anybody who is interested in leadership at the level of a president, governor, senator, you have the biggest stake to protect the nation. Both those who want to be president, governors and their supporters should first know that we need to have a nation before whoever you are supporting can emerge into a leadership position."
READ ALSO: Tinubu Will Be A Sleeping President – NNPP National Chairman
Jonathan commended Nigerian youths for picking up interest in the general elections, advising them to guard against hate speech. He identified fake news, hate speech and propaganda as the biggest threat to democracy, calling on the citizens not to indulge in it.
In attendance were Secretary to the Government of the Federation, Boss Mustapha; Governor Bala Mohammed of Bauchi State; deputy governor of Bayelsa State, Senator Lawrence Ewhrudjkpo; former governor of Bauchi State, Isa Yuguda and Bishop Matthew Kukah of Sokoto Diocese, among others.
Speaking on the published list, Okoye noted that the list published contains names of candidates validly nominated for national elections at the close of party primaries and the period earmarked for withdrawal and substitution of candidates.
According to him, all 18 political parties fielded candidates and their running mates for the presidential election.
The names of presidential candidates and their running mates included: APC – Tinubu and Shettima (running mate); Atiku Abubakar of Peoples Democratic Party (PDP) and his running mate, Ifeanyi Okowa; Rabiu Musa Kwankwaso of New Nigeria Peoples Party (NNPP) and his running mate, Idahosa Isaac; and Labour Party presidential candidate, Peter Obi and Baba Ahmed Yusuf Datti as running mate.
Other presidential candidates are Adewole Adebayo of the Social Democratic Party (SDP) and his running mate, Yusuf Buhari; Kolawole Abiola of Peoples Redemption Party (PRP) and his running mate, Zego Haruna; Sani Yabagi of Action Democratic Party (ADP) and his running mate, Udo Okey-Okoro; Ado-Ibrahim Abdulmalik of Young Progressives Party (YPP) and his running mate, Enyinna Kasarachi.
Also listed are Omoyele Sowore of African Action Congress (AAC) and his running mate, Magashi Garba; Princess Chichi Ojei of Allied Peoples Movement (APM) and her running mate, Ibrahim Mohammed; Chukwudi Umeadi of All Progressives Grand Alliance (APGA) and his running mate, Koli Mohammed; Oluwafemi Adenuga of Boot Party (BP) and his running mate, Turaki Mustapha; Daberechukwu Nwanyanwu of Zenith Labour Party (ZLP) and his running mate, Ramalan Abubakar.
Dumebi Kachikwu of African Democratic Congress (ADC) and his running mate, Buhari Ahmed; Hamsa Al-Mustafa, presidential candidate, Action Alliance (AA) and his running mate, Chukwuka Johnson; Action Peoples Party (APP), Osita Nnadi and his running mate, Isa Hamisu also made the final list.
Okoye, however, noted that not all the political parties conducted primaries in all the constituencies, while the majority submitted the particulars of candidates that emerged from valid primaries or substituted their candidates after fresh primaries within 14 days as provided in Section 33 of the Electoral Act.
This, according to him, has led to numerous litigations, some of which are ongoing. He revealed that 4,223 candidates would be contesting for 469 legislative positions.
The statement read: "At its regular weekly meeting held on September 20, the Commission approved the final list of candidates for national elections (Presidential, Senatorial and Federal Constituencies) pursuant to section 32(1) of the Electoral Act 2022 and item 8 of the Timetable and Schedule of Activities for the 2023 General Election.
"The publication of the full names and addresses of all nominated candidates follows the political parties' conduct of primaries and completion of the nomination exercise. Nigerians may recall that at end of the process, the personal particulars of all nominated candidates were displayed in their constituencies nationwide as provided by section 29(3) of the Electoral Act.
"Subsequently, validly nominated candidates had the opportunity to voluntarily withdraw their candidature by notice in writing and personally deliver such notice to the political party that nominated them for the election. Thereafter, political parties substituted such candidates under section 31 of the Electoral Act, for which the last day was July 15, 2022, for national elections and August 12, 2022, for State elections as clearly provided in item 6 of the Commission's Timetable and Schedule of Activities.
"Thereafter, no withdrawal or substitution of candidates is allowed except in the event of death as provided in section 34(1) of the Electoral Act or pursuant to an order of a Court of competent jurisdiction.
"The final list of candidates for state elections (Governorship and State Constituencies) will be published on October 4, as already indicated on the Timetable and Schedule of Activities for the 2023 General Election.
"In summary, all the 18 political parties have fielded candidates and their running mates for the presidential election. For legislative elections, 1,101 candidates are vying for 109 Senatorial seats and 3,122 candidates for Federal Constituencies i.e. House of Representatives seats, making a total of 4,223 candidates contesting for 469 legislative positions.
"In terms of gender distribution, 3,875 candidates are male, made up of 35 for Presidential and Vice Presidential, 1,008 for Senate and 2,832 for House of Representatives. Similarly, 381 females comprising one for the Presidential, 92 for the Senate, and 288 for the House of Representatives are contesting. There are also 11 Persons With Disability (PWDs) in the race."
Okoye appealed to all political parties to channel any observations on the list of candidates to the Commission, adding that such must be signed by the National Chairman and Secretary of the political party and supported with an affidavit as provided in section 32(2) of the Electoral Act 2022. (The Guardian)