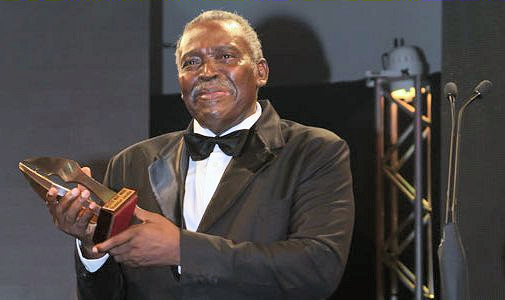 Some Nollywood artists on Tuesday poured encomiums and lauded the contributions of veteran Nollywood actor, Olu Jacobs, as he clocked 75 years.
They told the News Agency of Nigeria (NAN) in separate interviews that Oludotun Baiyewu Jacobs has remained a professional par-excellence in the thespian world.
They also described him as a sterling source of inspiration and a grandfather actor to others in the entertainment industry in general and the movie sector in particular.
NAN reports that Olu Jacobs; born to his parents from Abeokuta, Ogun, on July 11, 1942, is married to Nollywood actress, Joke Silva and are blessed with children.
Veteran artist Lari Williams and a contemporary of Olu Jacobs in the United Kingdom and in Nigeria described Jacobs as a consistent ambassador in the entertainment industry.
According to Williams, I first met Olu Jacobs at the Commonwealth Hall in London in September 1978 where he played the lead-role in my very first stage production, "Kolanut Junction''.
"After then, I have had several personal and professional encounters with him in London and also in Nigeria where he featured in many soap operas.

"Olu Jacobs has both national and international experiences, both on stage and on the screen.

"I also met him in an NTA movie: `The third eye' where he also displayed his professional skills. He can be described as a versatile actor," he said.
Williams, who will be marking 50 years in the entertainment industry very soon, noted that Jacobs was more involved in the movies than in stage production, where he started from.
Williams attributed his to the fact that home movies have taken precedence over stage productions.
"Jacobs, currently, is more into the movie industry; playing the roles of the king and chiefs in most cases, I will rate him a good actor for his professional consistency," he said.
Williams recalled that Jacobs had starred in several movies both in Nigeria and in London that have turned his name into a household name on the African continent and beyond.
Also, Tope Babayemi, Founder, Different Aesthetics, Arts and Culture Management based at the National Theatre Complex, Iganmu, Lagos State, said that  Olu Jacobs was and still remained a force to reckon with in the theatre industry.
Babayemi said that Jacobs' experience in the movie industry had spanned several decades culminating into his being addressed as a fine-grandfather actor.
"Olu Jacobs is one of the outstanding actors that I have high regards for and I can, confidently, say that he is among the forerunners who have contributed immensely to the growth of the industry,'' he said.
Babayemi congratulated the family of Olu Jacobs as their patriarch added another year to his age and wished him and his lovely wife, Joke Silva, many more meritorious years together.
"His wife who is also a veteran actress in the theatre industry has been instrumental to the development of the movie industry.

"Their combination as husband and wife and co-thespians has left a significant mark in the quality of movies produced in the country,'' he said.
Similarly, Abraham Eromosele, a movie-producer felicitated with Olu Jacobs on the occasion of his 75th birthday.
Eromosele said that Jacob had graced several movies as an actor and had impacted positively in the development of the movie industry.
"Jacobs is an awesome personality when it comes to acting and he always has a way of passing the message of his role to the viewers.

"He is a blessing to the growth of the movie industry,'' he said.
NAN also reports that Olu Jacobs spent his early childhood in Kano and attended Holy Trinity School where he was a member of the debating and dramatic societies.
e was inspired to take a chance with acting when he attended one of Hubert Ogunde's annual concert party at Colonial Hotel in Kano.
Afterwards, he secured a visa and travelled to England to study acting.
He trained at The Royal Academy of Dramatic Arts in London.
He then starred in various British television shows and series in the 1970s including: The Goodies, Till Death Us Do Part, Barlow at Large, The Venturers, Angels, 1990, The TomorrowPeople, The Professionals.
In 1978, he played the role of President Mageeba in Michael Codron's presentation of Tom Stoppard's play Night and Day.
In the 1980s, Jacobs starred in several international films some of which include John Irvin's war film The Dogs of War, Roman Polanski's adventure-comedy Pirates (1986) and the family-adventure film Baby: Secret of the Lost Legend (1985).
On television he was a cast in TVS's The Witches and the Grinnygog (1983 series).
Jacobs has starred in over 120 Nollywood films .
The stage and screen actor who has been in the industry since the 1970's has remained one of Nollywood's leading stars and role model.
Recently, he was honoured with the Industry Merit Award for outstanding achievements in acting at the 2013 Africa Magic Viewer's Choice Awards.