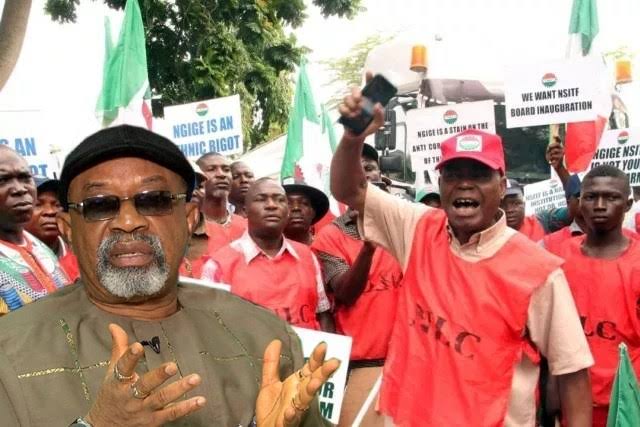 Organised labour has suspended its planned nationwide strike as negotiations with the Federal Government on consequential adjustment of salaries continue today, October 16.
At the meeting of Tuesday, both the labour and government teams made concessions in their positions but could still not reach an agreement.
Recall that going into the meeting, labour's demand was 29 per cent salary increase for workers at salary grade levels 7 to 14 and 24 per cent adjustment for those at salary grade levels 15 to 17, while the Federal Government offered 11 per cent increase for officers at grade level 7 to 14 and 6.5 per cent adjustment for workers at grade level 15 to 17.
However, the Next Edition gathered that labour during the meeting reduced its demand to 20 and 25 per cent, while government increased its offer to 17 and 15 per cent.
Labour also demanded documents from the Federal Government to support some of its claims at the meeting.
The Minister of Labour and Employment, Dr. Chris Ngige, at the opening of the meeting, said the workers demand before the negotiation would shut down the economy and so pleaded with the union leaders to consider the present state of the nation's economy in their demands.
Addressing journalists after the meeting, Ngige said, "I serve as the conciliator so I am not on any side. I belong to the two parties. As you can see, there was no fight and no walkout.
READ ALSO: Minimum Wage: NLC Prepares For strike
That shows that things are going on well. We will continue tomorrow (Wednesday) because of areas that we could not touch."
The Deputy President, Nigeria Labour Congress, Amaechi Asugwuni, in his own comments said, "For us at labour, the matters are straightforward but negotiations are still going on. We thought the meeting would be concluded today but that prediction was not successful. Therefore, adjournment became
necessary. The struggle will still continue.
"We will meet again tomorrow (Wednesday) and that meeting will decide the fate of both parties. So far, commitments have been shown by both parties but we believe that the areas that are still in contest are critical and we urge government to see how it can shift ground positively. We expect that Wednesday's meeting will end positively."
The Head of the Civil Service of the Federation, D. Folashade Yemi-Esan, who spoke for the government team noted "We have worked together and both sides have made a lot of concessions but we discovered that there are areas to be ironed out. There are some documents and information that are being sought and which we are providing. We will continue tomorrow with the belief that we will reach an agreement."