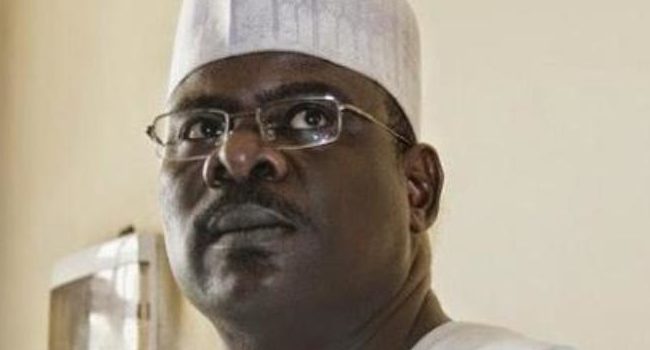 Officials of the Kuje Correctional Centre, Abuja, on Tuesday restricted access to Senator Ali Ndume (APC, Borno South), who was remanded on Monday over his inability to produce the former chairman of the Presidential Pension Reform Task Team, Abdulrasheed Maina, whom he stood surety for.
Justice Okon Abang of the Federal High Court, Abuja had ordered Ndume to be remanded after the accused severally failed to appear in his trial over alleged N2bn pension funds fraud.
It was gathered that some serving and former lawmakers were at the prison to see Ndume on Tuesday. 
Daily Trust reported sighting
 two serving senators; 
Ishaku Elisha Abbo (PDP, Adamawa)
 and 
Bala Ibn Na'Allah (APC, Kebbi).
The paper reported overhearing Sen. Abbo, who left without seeing Ndume, telling Sen. Na'Allah at the vicinity of the prison that the officials of the correctional centre required approval of their controller to allow access to Ndume.
After the interaction with Abbo, Na'Allah was allowed into the facility. He was seen entering the office of the officer in charge of the prison, G. U. Ochepa, after he was subjected to all COVID-19 safety protocols.
READ ALSO: South-South Leaders Engage FG, Demand Restructuring, True Federalism
Ochepa was heard telling the lawmaker: "There is a temporary suspension of visit to the facility because of COVID-19. It is not a punishment to the lawmaker. Only lawyers and his wives are supposed to be allowed to see him."
After about 20 minutes in Ochepa's office, the lawmaker left the facility.
Na'Allah, speaking with the Daily Trust expressed shock over Ndume's remand.
"In all my years of practice, as a lawyer this is the first time I'm seeing this kind of situation. What I know is that if the surety is unable to produce the suspect, the person will forfeit the bail bond.
"The bail bond is a very clear court document and there is nowhere it suggest even by implication that you can substitute a surety for accused person," he was quoted as saying.