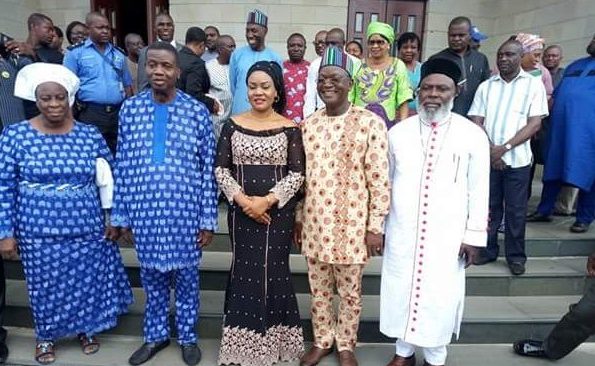 The General oversee of the Redeemed Christian Church of God, RCCG, Enoch Adeboye , was in Benue State on Friday to commiserate with the people of the state over the spate of killings by herdsmen.
Enoch Adeboye who visited Governor Samuel Ortom of the state, said he was pained by the killings and moved to tears.
He however assured that the people of the state would be victorious at the end of the day as God would fight the battle for them.
With him on the visit was his wife, Folu.
His words:  "I would have been here earlier but I was praying at home and was instructed by God not to come before the president.
"Benue State is very very close to my heart, I had felt every pain you people felt and I wept when I saw you weeping.
"But of course no man of God will see a mass burial anywhere and not feel the pains of the people affected. We want these killings to stop. Happily, we know someone who can stop it, He is the Almighty God. He does not fail or compromise. He is the God of all. We will continue to call on Him to fight this battle and you can be assured that victory will be certain."
The governor was thankful for the visit and reiterated the pains felt in view of the killings.
It would be recalled that on Thursday, for the second time in about three months, a mass burial involving 26 people was performed in Benue State.
The people buried were some casualties recorded in the attacks carried out by suspected herdsmen in Omusu and Okana communities of the state.
READ ALSO: No plan to under-register any zone –INEC
The funeral service was held at St. Bernard Primary School Ugwu-Okpoga in Okpokwu local government area of the state.
Lamenting the loss of lives and property that has come with the attacks by "killer herdsmen," Governor Samuel Ortom vowed not to reverse the Open Grazing Prohibition and Ranches Establishment law, believed to be responsible for the attacks.
He also called on security agencies to arrest the leadership of Miyetti Allah Kautal Hore over the attacks.
73 people also killed by suspected herdsmen in Benue State were given mass burial in January, 2018.
The attacks have been unceasing.