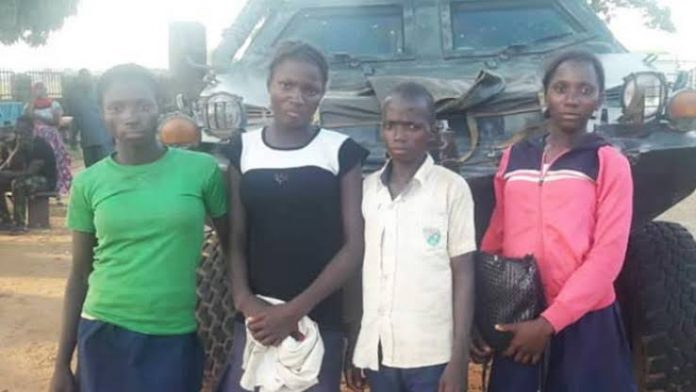 The six female students and two teachers of the Engravers College, Kakau Daji in Chikun Local Government Area of Kaduna State have been released by their abductors.
They were released after the payment of 13.6million ransom on Friday.
Recall that the students and their teachers were abducted early in the month.
They spent a total of 23 with their abductors having been abducted on October 3.
The Punch quoted a source as saying: "They were released after the payment of an additional N10m which was taken to the kidnappers on Friday. You know the parents earlier raised N3.6m as ransom but the kidnappers said it was small. This brings the total amount paid as ransom to N13.6m."
The unnamed source, confirmed that the students and their teachers were released by their abductors on Saturday morning.
READ ALSO: Police Recover N10m From Kidnap Gang, Arrest 81 Suspects
he source stated that the process to secure the release of the girls and their vice principal (academics) and matron, began on Friday.
"We took additional N10m to them and they have now released the children and our staff. We have just evacuated them. They (kidnappers) released them this morning.
"We paid the ransom (N10m) yesterday (Friday). They started moving out yesterday but it was late. So, they have to sleep at one point, then, this morning, they continued their journey."
Reacting to the release of the victims, the Kaduna State Government, in a statement by the State Commissioner for Internal Security and Home Affairs, Mr. Samuel Aruwan, said it was relieved that the kidnappers have finally released them after 23 days in captivity.