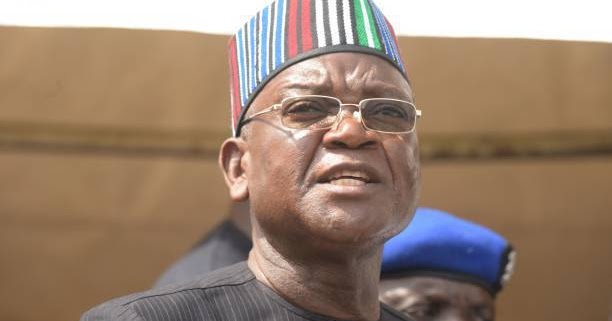 Benue State Governor Samuel Ortom has accused his Bauchi state counterpart, Mr. Bala Mohammed of allegedly sponsoring the terror perpetrated by herdsmen across the country.
Governor Ortom stated this in reaction to the former's comment that he, Governor Ortom, was responsible for the hatred Nigerians have for the Fulanis.
Ortom who spoke to journalists in Government House, Makurdi, on Monday, said Mr. Bala's statement was not only very disappointing but a testimony that he was part of those sponsoring the terrorist herdsmen.
Ortom who said he did not want to join issues with Mr. Bala Mohammed earlier said "since he has chosen to continue to vilify, intimidate and blackmail me, I am compelled to respond to him and I am beginning to think that my brother the Governor of Bauchi, Bala Mohammed, is part of the Terrorist Fulani Organization that is terrorizing this country.
"This is the same Governor who took oath of office to protect the constitution of the federal Republic of Nigeria. The constitution does not leave room for allowing influx of foreign herdsmen, or foreign Tiv people or foreign Fulani people or Yoruba from all over the world to come in without valid papers.
"But Bala has said that the Fulani man is a global man and, therefore, can come in from anywhere and enter Nigeria. This is quite disappointing. He should go back and rehearse the oath of office he took and see whether by allowing terrorist herdsmen to come into Nigeria, he is protecting the constitution of Nigeria.
READ ALSO: Alleged N69bn Debt: Court Vacates Order Obtained By AMCON's Over Jimoh Ibrahim's Assets
"His recent outburst that Fulani herdsmen are justified to carry AK47 to protect themselves. I don't know where the constitution of this country and the laws of our land allow any man or woman who is not licensed by security agency to carry arm, even dane guns are licensed let alone AK47 and other sophisticated weapons."
He further urged Bala Mohammed to come back and read the land use act which permits governors to have a sole authority over land saying as a Governor of Benue, he holds the land on behalf of the people and he is the only person to certify land use by any individual.
He, therefore, called on Mr. Mohammed come out and apologize to Nigerians saying "He should just come out and apologize to Nigerians. It will be consoling because we all make mistakes. If he apologizes, it will be appreciated but to continue to argue will be inflicting pains especially on some of us that have been victims of these Fulani herdsmen.
"We are thinking that he is part of the conspiracy and with what he said to me, Bala Mohammed is part of them. He wants to instigate the Fulani against me. I have Fulanis as friends and we relate very well.
"Bala should learn from Kano state Governor Ganduje who came out to proffer solution to the problems as well as the Sultan of Sokoto who said out of ten criminals, foreign fulani would be eight among them."
Ortom noted that the country is passing through very difficult times and will require the support of every stakeholder including the media to seek ways to restore peace.
"We can't afford to leave gaps. There's a lot of deceit, falsehood, manipulations all over the place. For me, I'm always ready to clarify issues. I believe in equity, fairness and justice and I remain committed to the unity of this country and to ensuring that dividends of democracy are delivered to my people.
He again called on President Mohammadu Buhari to tackle insecurity and nip it in the bud saying the over 800,000 IDPs in the state have remained a pain in his heart.
"I am not happy. We are not against fulani in Benue but we are against terrorists and bandits. Everyone is free to stay in Benue as long as you respect the rule of law. No kidnapper or criminal in Benue will be spared no matter how highly placed. Fulani Herdsmen who are terrorists will not be permitted in Benue. If you want to do livestock business in Benue, you must ranch your cow," the Governor insists.