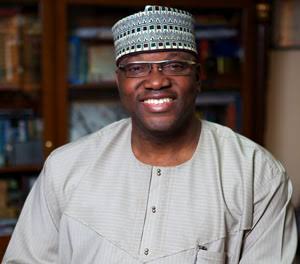 Chairman of Channels Television Station, Dr. John Momoh, is billed to speak at a webinar hosted by the United States Government Exchanges Alumni Association (USGEAA).
The lecture tagged: 'Engaging the media in social and business transformation agenda,' holds on Monday, August 17.
Deputy Public Affairs Officer of the US Consulate, Lagos, Jennifer Foltz, is the guest of honour.
Over 800 accomplished professionals, are expected to feature at the virtual programme, designed to discuss critical roles of the media in promoting business and social endeavours due to the challenges of the coronavirus pandemic.
President of the association, Dr. Jude Ememe, in a statement, said the event, is part of an array of activities, organized by the association to promote good governance and social reforms, across the country.
'The main objective is to equip members, with relevant resources to enable them to contribute significantly towards sustainable growth and progress in society,' he stated.
He added: 'We organize regular trainings to empower members with knowledge to implement various social transformation programmes and projects. Areas of trainings include, grant writing, leadership, networking, technology, poverty eradication and development initiatives.'
'Specifically, the webinar is designed to expose members to contemporary perspectives in media networking and advocacy, both nationally and internationally. The world has become a global village, with the media technology, crucial in accelerating human and economic ventures.'
'This COVID-19 era requires new management strategies and approaches for effectiveness in all sectors of the economy. The lecture will therefore, examine the role of the media in enhancing business enterprises, to enhance the potentials of participants to operate proficiently at national and international levels .
'We all need media literacy to increase competencies in accessing, evaluating and transmitting information, particularly in a digital-driven economy.
READ ALSO: Where Is Africa In The Race For COVID-19 Cure?
'Given the deluge of data and content, provided by the media, we need appropriate skills to effectively apply our expertise in the market place and societal ventures. We are privileged to have Dr. Momoh a foremost media consultant and practitioner as the main speaker.'
According to Ememe, a fellow of Hubert Humphrey Scholarship and eminent management consultant, 'Momoh, was selected as key speaker because of his pedigree as a renowned journalist, with a vast media experience spanning over 40 years.'
'Before establishing Channels TV in 1995, he worked variously as news anchor and producer for national radio and television stations.
Momoh's commitment to excellence has seen him and his companies, winning numerous national and global awards and recognitions.'
Momoh is an alumnus of the prestigious Harvard Business School and Lagos Business School.
A graduate of University of Lagos, with a Masters degree in International Law and Diplomacy, and a B.Sc. in Mass Communication, Momoh also has a diploma from Thomson Foundation Cardiff, Wales.
He is the president of the University of Lagos alumni association and immediate past President of the Chevening Alumni Association of Nigeria (CAAN). He also serves as a member of the Governing Councils of the University of Lagos and Elizade University.
A Red Cross Ambassador, Momoh sits on the board of many non-governmental organisations, notably PeaceTech Lab (United States institute of Peace, Washington DC), Special Olympics Nigeria, University of Lagos Advancement Board, Sickle Cell Foundation and Tristate Heart Foundation.
In recognition of his entrepreneurial dynamism, four Nigerian universities conferred honorary doctorate degrees on him notably Afe Babalola University Ekiti, Ondo State and Ambrose Alli University Ekpoma.
USEGEAA is the umbrella body of all exchange programmes sponsored by the US government in Nigeria, to foster peace and understanding.