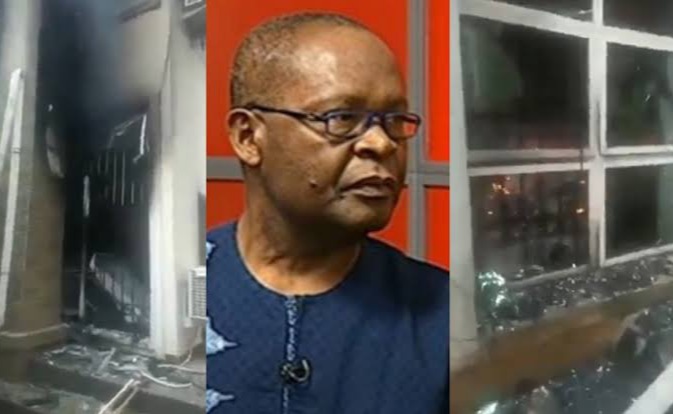 The Nnewi, Anambra, residence of Joe Igbokwe, Lagos-based All Progressives Congress (APC) chieftain, has been set ablaze.
Igbokwe raised an alarm over the incident in a Facebook post on Sunday.
He said the incident was monitored through Closed Circuit Television (CCTV).
Igbokwe blamed the outlawed Indigenous People of Biafra (IPOB) for the attack.
He wrote, "IPOB invaded my house in Nnewi about now. I'm sure they razed down my house, given the jerrycans of petrol I saw being offloaded from their Sienna car via CCTV. To God be the glory. I'm still alive. My Study is my greatest regret.
"I thank God that I am still alive. Things of the world mean nothing to me."
Shortly after news broke on the arrest of Nnamdi Kanu, IPOB leader, in June, Igbokwe shared a photo of him kneeling with his arms raised in celebration.
He had explained that he was celebrating because Kanu had marked him and his children for death.
Igbokwe said Kanu asked his boys to behead him anywhere he was found.
In the statement titled, "THANK GOD I SURVIVED NNAMDI KANU'S MADNESS", Igbokwe said that aside himself and his children, Kanu also imposed kill-on-sight order on those who speak against his dream land, Biafra.
"Nnamdi asked his boys to behead me anywhere they see me. They did not spare my children, as they extended the same fatwa to them. He also did not spare the names of every other person who speaks against his dream land, Biafra.
READ ALSO: Gov. Okowa mourns ex-Delta Military Administrator, Ibrahim Kefas
"While they were looking for me, I sort the face of God hours on end because I know that to kneel is to win. It was a big battle. Friends were calling me, family members shouted from the roof top that I should lie low. My Children said I was putting them in constant danger. My wife complained and shouted but when she discovered that I cannot change she resorted to seek the face of God also."
Police Public Relations Officer in Anambra, DSP Tochukwu Ikenga, confirmed that there was a fore incident in Nnewi, but he did not go into details.
He said: "At about 2pm, of 3rd October 2021, the command received a distress call of fire incident in Nnewi. The Police Operative are currently on ground and the area has since been cordoned off. Further details shall be communicated," he said.