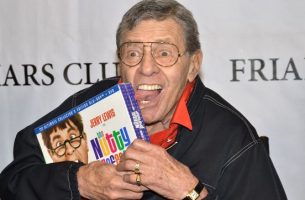 Comedic legend and star of the sci-fi comedy The Nutty Professor Jerry Lewis passed away yesterday at his home. He was 91 years old.
Born in 1926, Lewis went on to success as a comic, singer, actor and filmmaker. In 1963, he made The Nutty Professor as a wacky parody of Dr. Jekyll and Mr. Hyde, blending science fiction and romantic comedy into a winning combination.
John Katsilometes, columnist for The Las Vegas Review-Journal, reported that the legend died at his home in Las Vegas at 9:15am, a report that was later confirmed by Lewis's agent.
Read also: Stop fooling yourself, girl! 3 signs he's clearly NOT into you
I'll be updating this post throughout the day if and when more information arises.
A CNN, publicist Candi Cazau sheds some light on the comedian's death, saying that he was mildly ill before his final days and had had a short stay in the hospital. He had returned home in recent days, however, and was making plans for future appearances. You can watch the full segment, which includes reflection on the late Lewis's life, below.
Source: io9