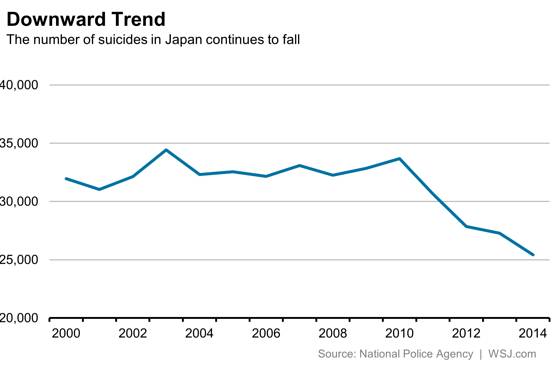 Japan's suicide rate dropped from a year earlier to a record low in 2019, marking the tenth straight year of decline, the National Police Agency (NPA) said in a report on Friday.
According to the agency, the number of suicides declined from 4.2 per cent in 2019 from a year earlier, to 19,959 cases, with the figure falling below the 20,000 mark for the first time since comparable data became available.
The statistics showed that women committing suicide hit a record low in the recording period at 6,022 cases, 528 less than the previous year, with those of men down by 353 instances, at 13,937.
The largest number of cases was registered in Tokyo at 2,107, followed by Osaka at 1,191 in the recording period.
READ ALSO: Japan Typhoon Death Toll Climbs To 74, Rescuers Search For Missing People
Saitama Prefecture, meanwhile, logged the third-highest number of suicides at 1,100, the data showed.
Of Japan's 47 prefectures, Tottori booked the lowest number of suicides at 80 cases.
"We need to face up to the reality that as many as about 20,000 people took their own precious lives,'' Japan's Health, Labor and Welfare Minister Katsunobu Kato said.
"To realise a society where nobody will be forced to commit suicide, we'll promote countermeasures steadily,'' Kato told a press briefing on the matter.
The health ministry said its preventative measures so far have included the provision of consultation services for younger people utilizing social media platforms.
Xinhua/NAN