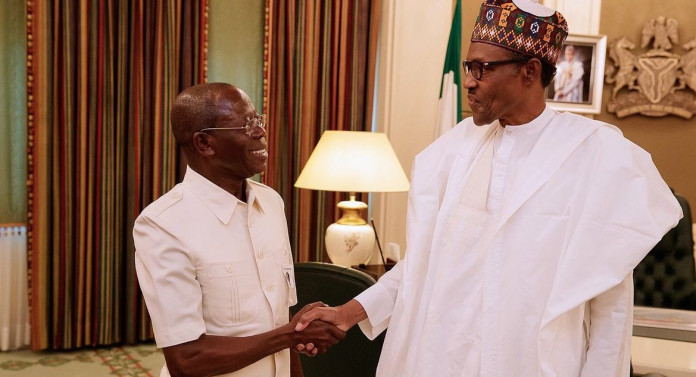 This review was initiated in response to the invitation by the former National Chairman of the All Progressives Congress (APC) John Odigie-Onyegun, that Nigerians hold the party accountable for the implementation of its 2015 Manifesto.
 "All Nigerians must join hands to actualize what is contained in this manifesto and hold us to account if we fail to achieve them. For us, this manifesto is our social contract with Nigeria," Mr. Odigie-Oyegun had stated.
Less than a month to the next general election, the NEXT EDITION decided to review the entire manifesto with a view to holding the party and the government accountable to the Nigerian electorate who voted them into power.
The review covered every item set out in the APC's manifesto and is based on verifiable proofs, reports from the media and relevant local and international groups etc.
Click here to read the first part of the report. 
Where the party successfully implemented a campaign promise, we cast the review in GREEN, where the level of implementation is moderately successful we cast the review in BLUE and we cast a failed promise in RED.
Below is the continuation of the review and the last part of the exercise ….
EDUCATION
x. APC believes in the demonstrable successes of private capital in education and will accordingly enunciate policies that strengthen existing undertakings as well as encourage new ones;  FAILED – Nothing has changed from what obtained in the past.
xi. Enforce the provisions of the Universal Basic Education Act with emphasis on compulsory basic education, promotion of the girl child education, gender equity in primary and secondary school enrollment, and improvement in quality and substance of our schools; FAILED – Nothing has changed from what obtained in the past.
xii. Immediately increase quality and levels of spending of our budget for the critical education and healthcare sectors whilst making substantial investments in training of quality teachers and   health professionals at all levels; FAILED – No significant improvement has been recorded considering the value of the budgets passed under the administration
xiii. Encourage state governments with matching grants to subsidize education and raise attendance and retention levels in our schools in ways and manners that are most effective in   each state through special teachers' allowances, school and classroom development, etc.; FAILED – Apart from the UBEC programme which existed before the life of the government, no matching grant has been given to states to subsidise education and offer special allowances to teachers.
xiv. Facilitate nationwide coverage of broadband internet facilities in all the states; FAILED – The government has not offered broadband internet service to its neighbours around Aso Villa in Abuja, to think of providing for the 36 states and the FCT.
xv. Incentivize the effective use of innovative teaching methods, materials, and technologies in schools, while improving the competence of teachers along with implementing vigorous national inspection standards; FAILED – The government has not done anything in this direction.
xvi. Ensure that a greater proportion of scholarships, fellowships, and overall expenditure on tertiary education is devoted to science and technology with more spaces allocated to science and technology-oriented courses; FAILED – The government is yet to do anything to implement this policy. Nothing has changed from what obtained in the past.
xvii. Expand, where necessary, existing universities of Science and Technology with satellite campuses in various states as well as strengthen university science education; FAILED – No single university of science and technology has been expanded and or satellite campus created anywhere in the country.
xviii. Promote innovation by investing heavily in research, development, science and technology; FAILED – ASUU is currently on strike partly because of the failure of the government to adequately fund tertiary education in the country. 
xix. Encourage state governments to revamp, expand, or establish technical colleges and vocational centres for retooling and skills transfer to meet state and national manpower needs; FAILED – No state of the Federation has been provided with grant or funding to revamp, expand or build technical of vocational centres.
xx. Provide a more conducive legal and regulatory framework for private sector participation in all levels of education; FAILED – Nothing has changed from what obtained in the past.
xxi. Encourage and incentivize state governments to expand or establish centres of excellence to address the needs of special education and physically challenged students; FAILED – No incentive has been given to any state to promote special education in the country.
STRATEGY FOR FUNDING EDUCATION
APC believes that while ministries are important to articulate, drive and monitor the implementation of policies, the funding strategy must nonetheless ensure that resources for schools are under the control of the operators at all levels, subject to appropriate accountability guidelines, to enable the operators to respond to the day to day needs of their institutions; FAILED – The government has done nothing to make this laudable plan a reality.
E YOUTHS, SPORTS AND ENTERTAINMENT
Our policy on sports is to compete to win fairly to complement our national outlook to be   the best that we can be. Thus, APC will:
I. Establish world-class sports academies and training institutes nationwide, implement measures to identify talents early to ensure their participation in local and international competitions, and ensure that Nigeria occupies a place of pride in global sports; FAILED – The government has not established a single world-class sports academy anywhere in the country. The sector has witnessed little or no improvement since the administration came into power.
II. Revamp the Nigerian Football, Hockey, Tennis and Basketball leagues and put incentives in place to make these as competitive as other national leagues; FAILED – Nothing has been done to revamp these sports. They are still struggling and their future is as bleak as it has always been. 
III. Mandate schools and communities to create playgrounds/sports centres with needed equipment to develop skills and provide matching grants to facilitate same; FAILED – The government has not mandated even the FCT communities which is next to Aso Villa to create playgrounds for sports and recreation or provide a single grant for sports development. 
IV. Revive inter-house athletics competition, inter-school and interstate academicals sports programmes as well as inter-tertiary institution games as potential sources of talent identification, nurturing, and development; FAILED – Inter-house sports competition and other schools sports have continued at the same level the administration met it in 2015.
V. Assist the entertainment, arts, and creative industry with fiscal incentives and enhanced copyright regime to fully develop the sector into a world-class movie industry that can    compete effectively with Hollywood and Bollywood in the shortest possible time. FAILED – While the president met with members of the creative industry in the country, it has not offered any identifiable incentive to boost their operations.
GETTING NIGERIA BACK TO WORK
The successful implementation of these health and education policies should inexorably lead to the creation of a more productive human capital base; where Nigeria and Nigerians get back to work. We believe that a productive and competitive Nigeria, where every person who is willing and able gets a fair chance is the best way to get Nigeria back to work. FAILED – The government has not backed up the laudable plans of its party with relevant policy framework and action.
SOCIAL SAFETY NET
The social safety net for Nigerians must not only protect them for today, but it must also secure them for the future, in their older years and less productive period. However, we do not believe in a Nigeria where those who are vulnerable, unable, or physically challenged are left behind. Accordingly, APC will:
I. Commit state governments to the provision of free ante-natal and maternal care for pregnant women; FAILED – No state implementing free ante-natal care and support to nursing mothers receives an incentive from the Federal Government.
 II. Provide free healthcare for babies and children up to 12 years old and for the aged and free treatment for those afflicted with infectious diseases such as Ebola Virus Disease, Tuberculosis   and HIV/AIDS; FAILED – The government has not fulfilled this promised even in Aso Vila Clinic or in Abuja, the Federal Capital Territory (FCT).
III. Ensure timely payment of retirement benefits for all pensioned senior citizens and design a nationwide poverty safety net for all aged citizens above the age of 70; MODERATELY SUCCESSFUL – While it has continued with the payment of pensioners, the government has not designed any poverty safety net for aged citizens.
IV. Ensure the domestication of the Child Rights Act nationwide to protect the Nigerian child, particularly the girl-child; FAILED – No action has been taken since the administration came into power to get states to domesticate the Child Rights Act which was passed by the previous government.
V. Enact legislation to ensure that women are adequately represented in government appointments and provide greater opportunities in education, job creation, and economic empowerment; FAILED – The government has not initiated any legislation in this direction, rather, it has appointed less number of women into leadership position compared with the previous administration.
VI. Initiate legislative and policy reforms to enable participation in government, on an active basis, by the physically challenged and people with special needs; FAILED – The government has not initiated any bill or policy to make this happen.
VII. Recognise and protect women empowerment and gender equality with a special emphasis on economic activities in development and in rural areas; FAILED – Apart from TradeMoni launched by the government recently, which is targeted at men and women, the government has failed to ensure gender equality and women empowerment through a direct policy initiative.
VIII. Promote the concept of reserving a minimum number of seats in the National Assembly for women; FAILED – The APC-led government has not done anything tangible to empower more women to contest and win election into the National Assembly.
IX. Therefore, while gainful and dignified employment provides the security of today, a secured and valuable pension payment is a long-term strategy we commit to, as security for old age; FAILED- No social safety has been created for the aged by the administration.
X. Related to pensions is the promotion of insurance as a way to provide for unforeseen risks such   as the death of a breadwinner, fire in a market or at home, loss of employment, disability arising   from accidents, and complex health challenges; FAILED – No legal or policy framework has been created to get this policy on course.
XI. Commit to a radical restoration of insurance business to cover these risks at competitive costs, and by growing this sub-sector of the finance sector, we expect also to create employment; FAILED – No evidence the government has taken any action in this direction.
XII. Our job placement, service delivery, and development policy will create special benefits for people who are either physically challenged or living with disabilities: FAILED – The government has not created any kind of job-placement policy and or special benefits for physically challenged people in the country.
4.0    ECONOMIC DEVELOPMENT – POLICIES
Our national economic strategy shall focus on sustained growth acceleration, job creation, and wealth generation with a clear objective of reducing income inequality. The products and services in the economy shall be of the best quality and priced to serve the generality of our people. Therefore, APC will:
Maintain a sound macroeconomic environment, run an efficient government, and strengthen the regulation of the financial system; FAILED – The nation's economy went into recession partly because of the failure of the government to create a sound macro and microeconomic policies to respond the sharp drop in oil prices in 2015.
Accord the highest priority to the reduction of Nigeria's power supply deficits and dependence on imports of petroleum products, as they constitute both economic and national security challenges. These challenges will be addressed to attain energy adequacy and independence within the shortest possible time; 

FAILED – Despite his electoral promise to reduce petrol pump price from the N87 per litre, President Buhari rather increased it to N145 and is currently paying more in subsidy than the Jonathan administration did at N87 per litre. Fuel importation has continued and the power supply has not witnessed significant improvement. According to NBS, Nigeria imported petrol valued at N2.289 trillion in 2018. A total of N802.4 billion was imported in the first quarter of the year,

N744.28

billion in the second quarter and

 N742.82 

billion recorded in the third quarter of 2018.
Accelerate the development and provision of a country-wide multi-modal transportation network that connects the nation and integrates the economy using roads, railways, air transport, inland waterways, and seaports with modern equipment and services of the highest quality and safety as a radical commitment to the renewal of our nation's transport    infrastructure; FAILED – No accelerated development and provision of a country-wide multi-modal transportation network as promised. The government has, however, built on the foundation laid by its predecessors especially in the rail subsector of the transport system. The introduction of the Nigeria Air in July 2018, which was later suspended, was shrouded in controversy while road and inland waterway transport sub-sectors have not fared better.
Implement a National Industrial Policy that adds value to the domestic economy, increases the stock of made-in-Nigeria products, keeps our people in paid and dignified jobs, reduces our trade deficits, and ultimately strengthens the value of our national currency; FAILED – More companies closed shops and millions thrown out of jobs based on reports by the World Bank, IMF and the National Bureau of Statistics. Recent NBS report showed over 20.9 million Nigerians were unemployed by the third quarter of 2018, representing 23.1 per cent, the highest in the country's history. The value of the naira had gone down to N500 per dollar at a time and now settles at N360 in the parallel market while the trade deficit has widened. Nigeria recorded N4.2 trillion deficit in manufactured goods between the third quarter of 2016  and the second quarter of 2017 based Daily Trust's analysis of data from the NBS. The report was published on November 6, 2017. Current reality could be worse.
Strengthen agriculture in order to provide food security, as an instrument for national security, industrialization, and job creation; FAILED – More farmers in the country have been displaced by Fulani herdsmen than ever in the country's history and food prices have gone higher than ever. While rice production has significantly increased, the country still relies much on imported rice. Nigeria imported three million metric tonnes of rice in 2018, which is 400,000 metric tonnes more than the quantity of the product imported in 2017, according to the 2018 United States Department of Agriculture World Markets and Trade Report. The same applies to other commodities.
Provide a government-guaranteed market for agricultural produce at a competitive market commodity exchange linked prices; FAILED – The government has not provided any guarantee to farmers to boost the competitive pricing of their produce.
Prioritize information technology, agriculture, manufacturing, housing, tourism, and entertainment as key drivers of our economy, and job creation; FAILED – No serious policy initiatives have been put in place to drive the fulfilment of this electoral promise.
Promote public and affordable mass housing programmes and the creation of enabling a legal and regulatory framework for a virile nationwide mortgage system that will empower our citizens to own their homes; FAILED – The housing sector has not fared any better under the administration. No new mortgage system has been launched by the government while the housing deficit has continued to grow. No new legal framework has been created to drive mass and affordable housing.
4.1      ECONOMIC DEVELOPMENT – STRATEGIES
The objective of our economic development policies is putting Nigeria back to work. The critical pillar for achieving this is to provide the tools for a healthy and productive population to venture out and fulfil their dreams.
A MACROECONOMIC MANAGEMENT:
APC government will protect the integrity and stability of the Naira, curtail inflation, and work towards market and business-friendly lending rates and stable foreign exchange rates; FAILED – The naira has suffered the worse instability under the Buhari regime and had exchanged for N500 per dollar in 2017 before settling at N360 following the CBN's weekly injection of an average of $200 million into the forex market to stabilise the value of the local currency. Inflation rate stood at 9.01 per cent in 2015 when Mr. Buhari took over but rose to 15.7 per cent in 2016, got to 18.5 per cent in 2017 and reduced to 12.4 per cent in 2018.
Preserve the independence of the Central Bank and put in place a more robust regulation, monitoring and supervision of all financial institutions; FAILED – There has been little or no improvement in the nation's financial sector.
Create a conducive environment for a private sector-led industrial base for the economy,    promote entrepreneurship that would help usher in new industries, new jobs, new knowledge and utilization of information and communication technologies.
FAILED – More companies have folded up or relocated from the country due to the unfavourable economic policies and programmes of the government.
B INFRASTRUCTURE:
 We are convinced that Nigeria's current infrastructure deficits provide a huge opportunity to reflate the Nigerian economy, grow its productive capacity, and give more Nigerians an opportunity to participate. FAILED – In spite of claims of massive infrastructure development by the government, the nation's economy has continued to wobble, the real sector has failed to grow and more Nigerians are unemployed based on NBS, World Bank, IMF and ILO reports.
A radical infrastructure renewal and provision programme, coupled with fiscal, macro and microeconomic reforms, will be our starting point for providing the tools for our people to put    Nigeria back to work. FAILED – If the government had initiated any radical infrastructure renewal programme or introduce strong macro and microeconomic reforms, the nation's economy would not have gone into recession. It took President Buhari six months to set up a cabinet and close to two years to come up with a semblance of economic policy.
C POWER SUPPLY:
i. Undertake an urgent power audit of Nigeria's energy needs because it is important to measure what we need to generate; FAILED – If the audit of the country's energy needs has been carried out, it seems the government just like past administrations has no clue on how to fix the nation's power generation crisis.
ii. Commit to a strategy of running repairs and forward planning which will include the     expansion of the existing carrying capacity of the transmission lines to be able to evacuate the   generated power and minimize transmission losses; MODERATELY SUCCESSFUL – The government has made serious efforts at improving the transmission capacity of the power sector but much still needs to be done.
iii. Commensurate with the findings, commit to an annual incremental capacity addition of at least 2,000 megawatts of new power every year until full supply and stability is delivered, whilst simultaneously ensuring development of sustainable/renewable energy; FAILED – A performance trend data obtained from the office of the Vice President, Prof. Yemi Osinbajo, by THISDAY showed that the sector struggled to sustain an average daily power production of 3,761 megawatts (MW) between January and September 2018. The report also showed the sector achieved a peak power generation of 5,222MW on December 18, 2017, but largely struggled to keep up with the trend, and so far in 2018 managed to generate and supply about 4000MW for only 72 out of the 365 days in the year. It has not added 2,000 MW as projected between 2015 and now.
iv. Commit to a massive investment in gas production and processing for domestic use and the aggressive construction of a national gas grid to supply gas to existing power stations and new ones that will be built. FAILED  – Very little improvement has been recorded in the gas production and processing sector.With about $51billion investment opportunity, the country is yet to harness its gas resources for maximum economic gains. 
HOW POOR POWER SUPPLY KILLS JOBS AND FUELS POVERTY
Inadequate supply of electricity is a major cause of Nigeria's high poverty index as it stifles production and job creation. The consequences of the lack of electric power manifest itself in many ways. Power potage account for the high cost of production of large scale manufacturing entities and small businesses such as barbing, sewing and cottage industries and this translates into the high cost of goods and services and lack of competitiveness.
For instance, a small shop owner that consumes about 15.8kwh of electricity will pay an electricity distribution company at current tariffs about N203.41 per day, amounting to N6,102.30 monthly. But he spends more than double at N428.76 daily on generator, thereby losing his personal disposable income of N225.35 daily that should have been spent to take care of his family; which would amount to N6,760.50 per month and N81,126 per annum. Thus, the average shop owner is poorer by N81,126 because of lack of electricity.
An average 2 bedroom flat consumes about 48.9kwh of electricity daily, which at the current tariff costs N629.20 per day and N18, 876 per month. The cost of using a generator amounts to N2,097 per day and N62,920 per month; thereby resulting in lost disposable income of N1,468 per day and N44,044 per month. Thus, the occupier of an average 2 bedroom flat will save as much as N528,528 per annum when the government provides stable electricity.
When these costs are removed from production costs as a result of reliable electric power, goods and services would become cheaper by 10-40% of their current prices and thereby become affordable. With the savings in disposable income, the demand capacity of Nigerians for goods and services will increase. Higher demand would translate into increased supply with new jobs being created and a reduction in the level of poverty. FAILED – There was no marching performance by the APC government to make this happen and so the party has woefully failed in one of its strongest campaign promises.
D TRANSPORT:
 A reliable transport network, especially by road, rail, air, and water, is another indispensable tool for governance, development, and national integration that we must place in the hands of our healthy and educated people. Thus, APC will:
i. Commit to an urgent reconstruction of all interstate highways that form the backbone of Nigeria's road transport network as a way of reconnecting Nigerians back with     their country to make road travel the pleasant experience that it used to be; FAILED  – The nation's highways and roads are still in pitiable states of disrepair especially in the South-south, South-east and some part of the North-central zone. The government's claim of massive road construction cannot, therefore, be justified. 
ii. Commit to the development of new road alignments to give choice and alternatives to travellers and transporters; FAILED – The government cannot conveniently point to new road alignment and alternative it has created for transporters and travellers in the country. 
READ ALSO: I was offered bribe not to leave APC – Tambuwal
iii. Commit to a strategy of ongoing rehabilitation and maintenance programme that will ensure that all existing federal roads are safe and motorable; FAILED – Most federal highways have failed and have not been maintained or rehabilitated since the administration came into power. South-west and North-west have the highest number of road projects including rehabilitation works. 
iv. Encourage and incentivize state governments to construct roads that will link all major    population centers, agricultural settlements, and markets to the nearest federal trunk road; FAILED – No state has been given any form of incentive to construct roads or maintain existing road network. Only a few state repair or reconstruct federal roads and get refunded by the Federal Government.
V. Encourage and financially support states with sprawling urban centres to embark on intra city metro lines and bus systems; FAILED– The Federal Government has not supported any state to embark on intra city transport system and therefore has failed in keeping this electoral promise.  
VI. Accelerate the modernization of airport infrastructure and equipment, strengthen aviation sector regulation to improve safety and provide low cost intervention funds to airlines for fleet   acquisition and expansion; FAILED – The modernization of some of the airports in the country is not President Buhari's direct programme but a continuation of work started by the previous government. These include the Nnamdi Azikiwe International Airport, Port Harcourt International Airport and Akanu Ibiam International Airport, Enugu etc.
vii. Embark on a clear plan with the necessary commitment to dredging of rivers, lagoons and creeks, provision of navigation aids such as buoys and markers, in order to restart movement of goods and services across Nigeria by water, especially through those states that have the comparative advantage of being blessed with water bodies; FAILED – The government has not taken any noticeable action to ensure the fulfilment of this promise and is yet to develop a blueprint for it.  
viii. Embark on a collaborative programme to build deep Greenfield seaports and provide enabling environment to optimize the capacity and throughput of the existing seaports; FAILED – Nothing has been done by the government to fulfil this promise.
E FISCAL REFORMS Trade and Industrial Policy:
i. Formulate a robust industrial policy and create a conducive environment for a private sector-led industrial base for the economy; FAILED– The Buhari government has not formulated any robust industrial policy nor creates a conducive environment for a private sector-led industrial base for the country. On the contrary, his policies are killing businesses and driving away direct foreign investment (DFI).
ii. Promote entrepreneurship that would help usher in new industries, new jobs, new knowledge and utilization of information and communications technology; FAILED –  The government cannot use the N-Power programme and TradeMoni to plead it has fulfilled this campaign promise. The N-Power is not a one-programme-solve it all but targeted at developing entrepreneurial spirit among young people. 
iii. Support diversification of our economy from the export of primary materials to value-added goods through supporting the establishment of a solid industrial base; FAILED – Nigeria is still exporting raw materials and no solid foundation has been laid to boost local manufacture and value-addition to the commodities and raw materials gotten within the country.
F BUILDING THE ECONOMY FROM THE BOTTOM UP – ONE SMALL BUSINESS AT A TIME:
i. Embark on vocational training, entrepreneurial and skills acquisition scheme for graduates along with the creation of Small Business Loan Guarantee Scheme to create new jobs; FAILED – The government has not created any tailor-made vocational and entrepreneurial scheme for graduates in the country. It cannot also use the N-Power programme as a poster for this promise because it is not directly targeted at building skill sets for graduates and or meeting their entrepreneurial skill needs.   
ii. Integrate the informal economy into the mainstream and prioritize data gathering through The National Bureau of Statistics; FAILED – The leadership of the National Bureau of Statistics (NBS) has raised the alarm it is not getting the required funding to carry out some of its key researches, so the government cannot claim it has fulfilled this promise if given less funds than the previous government.
iii. Promote a massive home building programme utilizing a mix of targeted public intervention in commercially unviable areas, public-private partnerships, and by creating a sustainable    mortgage system that will lend at affordable interest rates for development and purchase of   owner-occupier houses; FAILED – The Buhari government has not promoted mass housing programme or created a sustainable mortgage system to deliver affordable housing since it came into power.
iv. Embark on export and production diversification including manufacturing, agro-based industries, mining and the expansion of sub-regional trade through ECOWAS; FAILED – No export and production diversification policy has been created by the government to drive any of the sectors mentioned and there has been no policy initiative to expand trade within the sub-region.
v. Empower entrepreneurs with resources, skills and tools with a view to ensuring that key agricultural products such as cassava, cocoa, cotton, groundnut, melon, palm kernel, and rubber   go through value addition as opposed to exporting raw materials that would create jobs    and industries in other countries; FAILED – The government has not created any framework or programme to empower entrepreneurs with skills and tools to make value addition to their produce. The country is still exporting raw materials.
vi. Encourage the outsourcing of non-sensitive government services such as the maintenance of public buildings, streetlights, and public conveniences to facility managers. FAILED – The government of Mr. Buhari has not outsourced any non-sensitive operations as contained in this manifesto.  
5.0     LAND AND NATURAL RESOURCES – POLICIES
Our country is blessed with ample land, natural resources and minerals of every description as well as conducive weather; yet our dependence on crude oil has diverted attention from opportunities in other potential growth sectors. The APC will therefore focus on diversifying the economy through fundamental land administration reforms as the basis for capital formation and wealth creation. APC will:
Enable the computerization of land registers for each state that will be publicly accessible online. An APC government will provide incentives, including matching grants to encourage states    to achieve this national objective; FAILED – The Federal Government is yet to move the computerisation of its land registry beyond the level left behind by the Jonathan administration. It has not encouraged any state to do same.
Empower farmers to unlock wealth in land by way of marketable title and revive agriculture as an engine for economic growth and job creation; FAILED – No action has been taken to fulfil this campaign promise a few months to the end of the administration.
Embark on a programme of universal access to potable water, provision of irrigation facilities for dry season farming, and environmental sanitation with recycling and waste reduction;FAILED – This is another area the government has failed with flying colours.
Provide a mechanism for the three tiers of government to collaborate on reducing the cost of land and primary infrastructure for mass housing; FAILED – The Buhari administration has not taken any action either independently or collaboratively with states to reduce the cost of land or provide site and services for mass housing.
Reform and restructure the petroleum industry to promote value addition, reduce dependence on imported products, and enhance the domestic utilization of our gas resources; FAILED – Nigeria is still largely dependent on petroleum products importation and the government is paying far more in subsidy even when it has increased the price of PMS from N87 to N145 per litre. No serious attempt has been made at the utilization of the nation's huge gas reserves. 
Develop legal and regulatory frameworks to accelerate the exploitation of our mineral resources with greater involvement of state governments and the private sector; FAILED – No tangle framework has been created to accelerate the exploitation of mineral resources in the country. Nothing has significantly changed since May 2015.  
Implement legal, regulatory and fiscal reforms to address ecological challenges such as desertification, gully erosion, environmental pollution and impact of climate change. FAILED – The ecological challenges in the country have continued with the government doing very little or nothing to tackle it. Even the cleanup in Ogoni in Rivers State which was launched shortly after President Buhari came into office is yet to start.
5.1      LAND AND NATURAL RESOURCES – STRATEGIES 
Our land and natural resources policy objective will be anchored on wealth creation from nature's gift to Nigeria. APC will embark on a fundamental land administration reform as the basis for capital formation as well as job and wealth creations.
A COMPUTERIZED LAND REGISTER:
i. Undertake a nationwide audit of the level of computerization of state land registers, the FCT and the federal land information system; FAILED – There is no evidence the Federal Government has carried out an audit the computerisation of land register by states across the country. It has not done it on federal lands too. 
ii. Provide a 2-year window of federal grants to states to facilitate the completion of the computerization of their land registers and making them accessible online; FAILED – Not a single state in the country has got a grant from the Buhari government to start land register computerisation.
iii. Empower farmers and landowners alike to unlock wealth in the land through marketable title and affordable national mortgage system; FAILED – The process of obtaining land title in the country is still as cumbersome and steep in corruption as ever.
READ ALSO: APC government is a curse -Wike
HOW TO COMPUTERIZE STATE AND LOCAL GOVERNMENT LAND REGISTERS:
The Land Use Act vests the control and management of land in a state in the Governor to hold in trust for all the citizens of that state. The Act further categorizes land into urban and rural land. Titles to urban land are usually issued by the state Governor or his designated representative, while the local government chairman exercises similar functions with respect to rural land. The states and local governments often maintain separate, physical, paper-based land registers that are difficult to easily access.
Without a departure from this state of affairs, APC's housing, agricultural and mining sector programmes cannot be easily and seamlessly implemented. Major reforms are therefore needed nationwide in land administration founded on computerized, state of the art state's land registers that are easily accessible online. This will essentially ease the transfer of land by shortening waiting times for statutory consents, increasing transparency of records of ownership of land and integrity of titles.
The key steps in the computerization of land register are:
Project definition and phasing and establishment of project office and initial takeoff team. FAILED – None of the activities mentioned here has been carried out by the APC government a few months to the end of the administration.
Constitution of a full project team consisting of state and LG staff (urban and regional    planners,  land surveyors, civil, water, electrical and environmental engineers, land    administrators  and IT experts, etc.) FAILED – No project team has been constituted anywhere in the country.
Procurement of main project components: aerial surveys and mapping, LIS and GIS software, digitization of all rasta-maps and survey data, conversion of all paper files    into digital files using an electronic document management system, and the hardware needed – servers, desktops, laptops, industrial scanners, printers, plotters and copiers, etc. FAILED – There is no record to show any step has been taken to fulfil this promise
Recruitment and training of new staff to supplement existing staff, particularly in the areas of marketing, IT and customer service. For a typical state land register with the local governments, the estimated cost of the hardware, software and services (but excluding staffing costs, office running expenses and project vehicles) is about N1.2 billion in 2014 prices. FAILED – The government has not recruited and or trained anyone in fulfilment of this promise
APC will encourage and guide all state governments towards the implementation of this laudable project through matching grants and technical assistance. States that have begun similar projects will benefit from the federal grant programme if the deliverables meet the minimum condition of online access of GIS data of all land within the state. FAILED – Nothing has been done by the government to make this happen.
B PROVIDING SHELTER FOR OUR PEOPLE:
i. While the enormous housing needs of Nigerians and their aspiration for shelter is a huge challenge,   for us (APC) it represents a momentous opportunity for reducing inequality, creating employment, building prosperity, and lifting a large number of people out of poverty; FAILED – There is no known mass housing programme created by the government since it came into power.
ii. We understand the regulatory challenges that currently attend access to land and we intend to resolve them by a combination of policies that are legislative, consultative, and administrative; FAILED – The government has not initiated any policy or embarked on consultation with stakeholders or send a bill to the National Assembly to address the issue here.
HOW TO REDUCE HOUSING DEFICIT & CREATE MORE JOBS
Our studies show that it is possible to construct a block of 12 flats for not more than N150m per block in some parts of Nigeria and this cost can certainly reduce in other parts. We provide an annual grant of N370bn for all the states and the FCT at N10bn each, which they will match with the same amount for housing development. This will mean that Nigeria can spend N740Bn per annum to provide 133 blocks of 12 flats each per state, and FCT per year and 59,052 across the country every year. This will deliver 236,206 houses in 4 (FOUR) years and this is only a modest beginning. If Nigeria does this annually over the next 4 (FOUR) years and sustains it beyond, it will strike a massive dent against the problem of unemployment while addressing yawning national housing deficit. This programme will provide jobs for construction companies, their employees, local contractors, suppliers, transporters and many of the products of our technical and vocational colleges. There will be more demand for cement, sand, water, iron rods, roofing sheets, wood and timber, tiles, paint, electrical fillings, light bulbs, pipes, plumbing materials and all inputs for home building. Lagos, one of the APC states, has just launched a housing mortgage scheme that offers its residents a minimum of 200 (Two Hundred) houses a month. As it is the case with every forward-looking federation, an APC Federal Government will apply successful models in any state as a national model. The Lagos model will, therefore, be a useful model where a block of 12 (twelve) flats cost about N130m (one hundred and thirty million naira only). FAILED -No state in the Federation has received a kobo as grant from the government to provide affordable housing to the people and not even a prototype has been delivered.
iii. We propose to give an opportunity to as many Nigerians who have a source of income to acquire their own homes through government-championed housing development funded by an affordable nationwide mortgage system; FAILED – Unfortunately, the government has not championed any known mass housing scheme since it came to power.
iv. We expect that the states, as owners of land, will lead this initiative but an APC Federal Government will provide annual funding support for the construction of houses on a matching grant basis. FAILED – No state has been given funding to implement mass housing schemes for the people.
C AGRICULTURE:
The thrust of our agricultural policy is to achieve food security as an instrument of national security, industrialization, and wealth creation that would make farming more attractive and profitable. Thus, APC will: FAILED – Farming in the country is still largely subsistence and very little has been done to make the sector technology-driven and profitable.    
i. Modernize the sector and change Nigeria from being a country of self-subsistence farmers to that of a medium and large scale-farming nation; FAILED – Nothing has significantly changed from what obtained in the past.  
ii. Encourage and provide incentives for state governments to form agricultural cooperatives with title to land and adequate resources by way of funding, inputs, implements and extension services; FAILED – There is no record any state government including those of APC has been assisted to form cooperatives for farmers.
iii. Inject extra funds into the Agricultural sector to create more agro-allied jobs by way of loans at nominal interest rates for capital investment in medium and commercial scale cash crops; FAILED – No extra funds have been provided by the government in its budget for this purpose since it came to power in 2015.
iv. Facilitate the establishment of licensed buying agents with nationwide storage facilities and a   well-regulated market-driven commodity exchange; FAILED – The government is yet to facilitate this a few months to the end of the administration.
v. Promote policies and legislations that encourage the emergence of private sector service markets in storage and preservation of commodities, warehouse receipt system, and bulk transportation; FAILED – No action has been taken to fulfil this promise.
vi. Promote and support state and local government led, private sector owned mechanized large-scale agriculture to feed agro-industries, ensure food security and strategic reserves;FAILED – No action has been taken to fulfil this promise. Instead, the government has shielded criminal herdsmen who have unleashed terror and sack farming communities across the country.
vii. Create a nationwide food inspectorate division with a view to improving nutrition and eliminating food-borne hazards; FAILED – The government has not created food inspectorate division to carry out this function.
viii. Guarantee a minimum price for selected crops as a buyer of last resort as and when necessary. FAILED – No action has been taken to fulfil this promise.  
D OIL AND GAS:
i. Speedily review, update and reenact the Petroleum Industry legislation with a view to ensuring the   corporatization of NNPC and addressing local content issues; FAILED – The PIB is still a sour point in the nation's oil and gas sector and the government is yet to change the structure and legal framework of the NNPC and or address local content issues.
ii. Eliminate the importation of refined petroleum products by revamping our refineries, building new ones and incentivizing private sector participation in the downstream segment of the industry; FAILED – The country still relies heavily on imported PMS and is paying more in subsidy than when the price of petrol was N87 per litre. No explanation has been given for why the subsidy is bigger when fuel is selling at N145 when the cost of crude at the international market is below $55 per barrel.
iii. Strictly implement the gas master plan and legislation to end flaring by gathering, processing and transmitting all of our associated and non-associated gas for domestic use such as power generation,   production of fertilizers and petrochemical products; FAILED – Although it is talking tough against flaring, no infrastructure has been built to channel the flared into reusable products for domestic use and export.   
iv. Fully develop the petroleum sector's capacity to absorb more of the nation's new graduates in the labour market. The sector will produce more home-grown world-class engineers and scientists; FAILED – This promise has failed flat as more Nigerians have lost their jobs in the life of the administration. Oby Ezikwesili said over 29 million Nigerians are unemployed as 2019 during the Presidential Debate organised by BON/NEDG.  
v. Make the petroleum industry and Nigeria one of the world leading/cutting edge centers for clean oil and gas technologists, scientists, mega structure installation, drilling, processing, production engineers supported with best services and research facilities. FAILED – The nation's petroleum industry is still one of the most backward in the world and Nigeria cannot still refine crude for its domestic use.
E SOLID MINERALS:
i. Develop new mining sector policies that vest rights and interests in solid minerals to state governments to remove bottlenecks and accelerate much-needed investments that create jobs while the Federal Government collects royalties and taxes thereon; FAILED – Although the government has moved to liberalise the sector, nothing has really changed from what obtained in the past. Nigeria is yet to open up its mining sector for profitable private investment. 
ii. Review, update, and enact a new Minerals and Mining Act that will attract greater private sector investments into the sector; FAILED – The Nigerian Minerals and Mining Act 2007 still remains the only law in the country and is yet to be amended as promised by the APC.
iii. Provide a regulatory and supervisory regime for health, safety, and emergency operations in the industry along with environmental protection measures. FAILED – No administrative or regulatory framework has been created to address issues outlined in this part of the manifesto.
F WATER AND SANITATION:
i. Decentralize access of states and local governments to use of natural water bodies within their geographical jurisdictions subject to a national regulatory framework; FAILED – The move by the government to take over coastal lands and waterbodies and other sources of water in the country through legislation has been stalled at the National Assembly.
ii. Embark on a programme of universal access to potable water, and provision of irrigation facilities for dry season farming; FAILED – No serious programme has been initiated to provide universal access to water in the country as promised here.
iii. Establish environmental sanitation guidelines and encourage state governments to reactivate inspectorate regime; FAILED–The government is yet to initiate a policy to make this to happen.
IV. Support and accelerate the implementation of regional water transfer initiatives across the country; FAILED – There is no national or regional water transfer scheme in any part of the country.
G ENVIRONMENTAL SUSTAINABILITY:
It is critical to the sustenance of these development goals that our people and our territory remain safe and protected from nature and the threat that it currently poses to human survival arising from the incidents of global warming and rising sea levels. Thus, APC will:
I. Commit to the observance of global standards for environmental protection; FAILED – No serious measures have been taken to protect the environment apart from celebrating the World Environment Days. For instance, it is expected that action would be taken to stop the use of plastic bags like other African countries but this has not been considered.
II. Pursue the development of alternative sources of energy as an alternative to fossil fuels; FAILED – The country still depends largely on fossil fuels to earn money and power its machines.
III. Encourage energy conservation and promote recycling, reuse, and renewal policies in homes, communities, and industries; FAILED – No known action has been taken in this direction by the government.
IV. Deepen economic opportunities that are inherent in these policies by providing financial incentives that create jobs; FAILED – This promise ended right here in the pages of the manifesto.
V. Aggressively pursue erosion, desertification, and ocean surge control measures to protect all territories within Nigeria that are threatened by these natural phenomena;FAILED – There are no shreds of evidence to show this policy has been followed through by the APC government.
VI. Clean up territories that have experienced and are currently experiencing pollution of land, air, and water;FAILED – The government has failed woefully in the implementation of this promise. For instance, the controversial Ogoni cleanup that was launched almost three years ago is yet to start. No known cleanup exercise is going on in any part of the country experiencing land, air and water pollution.
VII. Enunciate policies to conserve the use of natural resources such as forest reserve, water, and water bodies. FAILED – No known policy has been initiated so far.
6.0    FOREIGN POLICY
With Africa's largest population and economy, Nigeria ought to play a leading role in regional, continental, and global affairs. APC will, therefore:
i. Make the Nigerian interest the overriding factor in its foreign relations engagements, commitments, decisions and partnerships; NOT AN ACHIEVEMENT – Every country does it and Nigeria should not be an exception.
ii. Accelerate regional integration within ECOWAS and facilitate the emergence of a common currency within the shortest possible time; FAILED – The government has not taken any serious action to make for the introduction of a common ECOWAS currency.   
iii. Negotiate agreements to facilitate free trade and movement of persons within the African Union on the basis of reciprocity and promotion of mutual interests; FAILED – Nigeria has not done anything serious in this direction and is yet to sign the African Free Trade Agreement.
IV. Maintain strong, close, and frank relationships with the United Nations, the Commonwealth, the   BRICs countries (Brazil, Russia, India, China and South Africa) and other strategic partners around the world. FAILED – No tangible initiative has been put in place to push Nigeria's relationship with these countries beyond what obtained in the past.
6.1.     FOREIGN POLICY – STRATEGIES
Once we succeed in making Nigeria secure, economically viable, and strong at home, our foreign policy will be aimed at gaining respect abroad. For Nigerians to be safe at home and respected abroad, APC will:
i. Ensure that the interests of Nigeria are paramount in all its foreign relations engagements, commitments, resolutions and partnerships;NOT AN ACHIEVEMENT – Every country does it and Nigeria should not be an exception.
ii. Accelerate regional integration within ECOWAS and facilitate the early emergence of a common currency with a view to creating a critical mass market in areas where we have a competitive advantage; FAILED – It has not happened.  
iii. Broaden free trade agreements and free movement of persons within the African Union in particular and the rest of the world on the basis of reciprocity and promotion of mutual interests. FAILED – The African Free Trade Agreement which would have underscored this has not been signed yet.