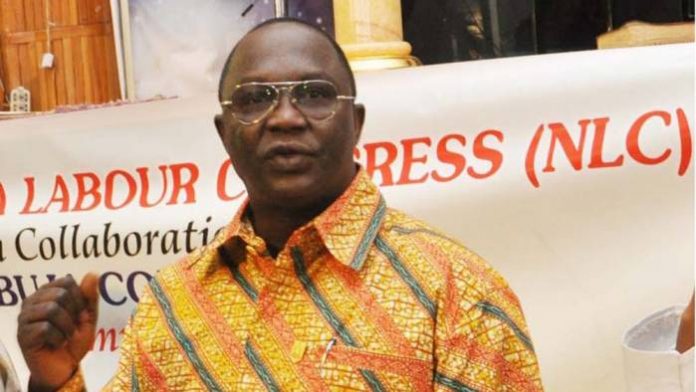 President of the Nigeria Labour Congress (NLC), Ayuba Wabba has decried the constant spilling of innocent blood through acts of terrorism, observing that the security agencies seem at a loss as to how to deal with the problem.

Condemning the killing on 30 people and burning of vehicles in Maiduguri on Sunday by Boko Haram terrorists, Wabba insisted that the Federal Government and especially the security agencies must seek new strategies to deal with insecurity in the land.
In apparent disagreement with President Muhammadu Buhari and the security agencies that the fight against terrorism was on course and successful, the NLC leader said "we are not on course."
He rather declared that the land has been desecrated by the blood of innocents.
Wabba, spoke at the 4th Delegates Conference of National Association of Academic Technologists (NAAT), held at the University of Abuja.
READ ALSO: 
NLC Presidency, Wabba returned unopposed
The theme of the conference was "The role of technologists in the economic diversification policy of government: A look at the agricultural sector."
Referring to the massacre on Sunday the labour leader said: "People know where they are located and they come to operate from this place, hit soft targets and take over. They operated from 9.30 pm to about 12 in the night and nothing happens until they finished, adopted people and left. Some of our students were adopted.
"This is a very dangerous trend. If we were able to end the civil war which started in 1967 and ended in 1970; the insurgency started in 2009 and today, we are in 2020; if we cannot put it to an end once, I think there is a problem and we have to look at it .
"The land has been desecrated by the blood of the innocent, nobody is actually safe, because the people being killed are innocent, they don't know what is happening and they are killed and therefore, our land has been desecrated by the blood of the innocent.
"We have to call the attention of various government agencies, the President to the issue of insecurity in the land so we can make sure that this is brought to an end. We want an end to this issue of iinsecurity, Wabba said.