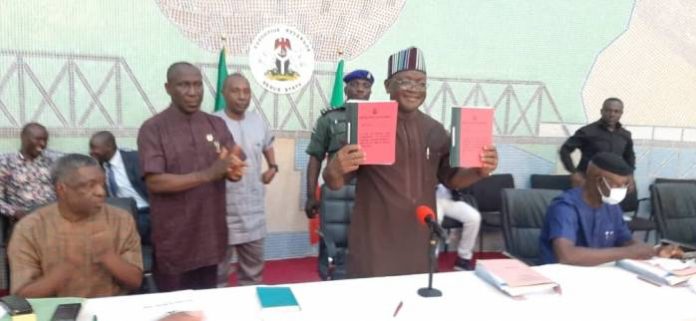 Benue State Government has signed the amended Community Vigilante Law which is now christened Community Volunteer Guards.
By this amendment, the personnel of the new Community Volunteer Guards will be allowed to carry weapons permissible by law.
Speaking during the signing ceremony, at the Government House, Makurdi, on Tuesday, Commissioner for Justice, Barr. Mike Gusah.
He further explained that the old law had lapsed saying under the new law, a command structure will be set up.
Governor Ortom who described the law as another milestone in the life of his administration, said 20 years after, the Vigilante Law needed to be amended to complement the conventional security agencies to fight criminalities in the state.
READ ALSO: Ooni Of Ife Empowers 2,000 Fashion Designers
"With the current insecurity and as a law abiding government, we decided to find a lawful way to support our conventional security agencies and it will go a long way to support our people especially at the rural areas," he said.
The governor said five strong able-bodied men and women will be recruited from each kindred, 10 from each ward while the local government will have representatives from council wards to ensure effective management and supervision of the Guards.
"Those to be recruited must be within the age bracket of 18-50 and must have a means of livelihood so they are not tempted to do the unwanted. I want to warn that the Guard should not be politicized.
"I believe that if we comply effectively with the provisions of the law and the Benue people support them, the guards will achieve set goals."
Speaking on Benue indigenes who were abducted in Zamfara State on their way to the National Youth Service Corps, (NYSC ) camp, Governor Ortom said while security agencies are doing their best to ensure their release, he is in touch with their families and also praying for them to be safe to be reunited with their loved ones.
Ortom who lamented high rate of kidnapping and armed herdsmen therefore called on the federal government to nip the menace in the bud.