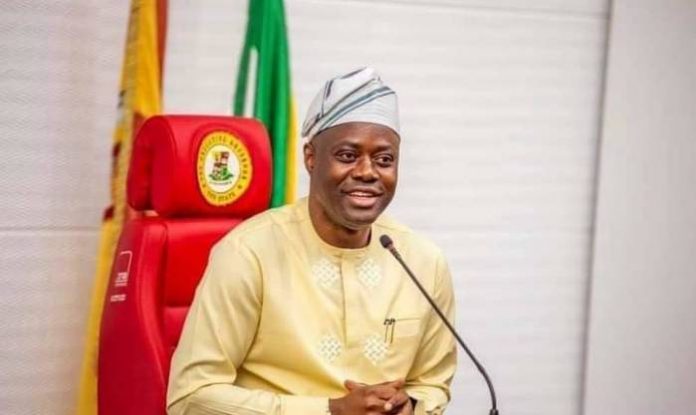 Gov. Seyi Makinde of Oyo State, on Saturday, expressed satisfaction with the electoral process so far, imploring electorate to exercise patience with those in charge of the exercise.
Makinde, who voted at exactly 10.10 a.m. at unit 1, ward 21, Abayomi-Iwo Road in Ibadan North-East Local Government Area, urged voters to exercise their civic duties responsibly.
Similarly, wife of a former governor of Oyo State, Mrs Florence Ajimobi, described the elections as very peaceful, saying that she was impressed with the exercise.
"I am very impressed that people have turned out and are patient, because we have issues with the BVAS machine.
"I want to commend the good people in this polling unit, because they have been very patient," Ajimobi said.
She, however, said she was emotional being the first time she would be voting after the demise of her husband.
"It's a bit emotional for me, but God remains unquestionable. I am here voting and there is nothing else I can do," she said.
READ ALSO: Elderly, Women, Youths Turnout In Large Numbers In Karu To Vote
A former Sports Minister, Prof. Taoheed Adedoja, also lauded voters' turn-out, describing the general conduct of the elections as impressive.
Adedoja, after casting his vote at Popoyemoja ward 4 of Ibadan South-West Local Government Area, told the News Agency of Nigeria (NAN) that BVAS was excellent in its use and that voters were happy with its performance.
"I thank God that everything went peacefully, as people came out as early as 7.00 a.m. and officials of INEC also came out in good time at ward 4 of Ibadan South-West Local Government at Popoyemoja to conduct the election," he said.
Also, Chief Rotimi Ajanaku, the Accord House of Representatives candidate for Ibadan South-West/North-West Federal Constituency, also cast his vote at exactly 11.00 a.m. at ward 12, unit 32 of Ibadan South-West Local Government.
Ajanaku described the elections as the most peaceful and impressive that had ever been conducted.
He said he was satisfied that the election was going on peacefully, in spite of the fear of possible crises and violence already instilled in the electorate.
"This election has been peaceful and I think INEC has done well. There can never be violence in Nigeria; we can never be divided; we will forever remain one and indivisible country.
"The decision of the electorate will be declared and their will shall prevail. This means that the people have elected the candidates of their choice," he said.
In Ibarapaland, a police officer, who preferred to be anonymous, said he felt that restricting people from going about their normal businesses on the day might cause serious problem, considering the tension already generated by the cashless policy.
"But I was wrong," he said. (NAN)