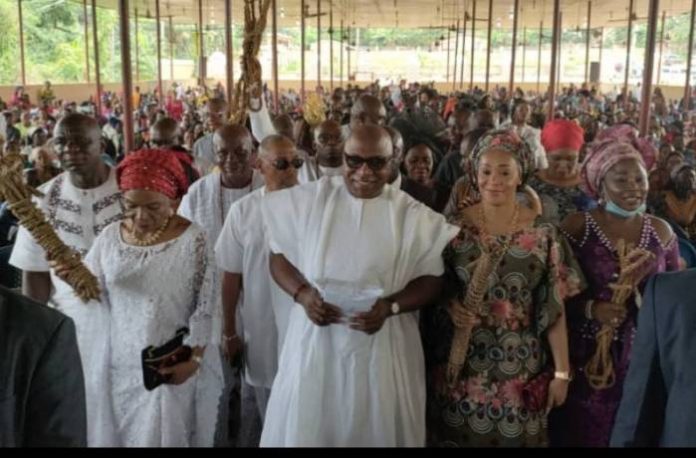 Candidate of the Zenith Labour Party (ZLP) in the just concluded governorship election in Anambra state, Dr. Obiora Okonkwo, has assured that not withstanding outcome of the polls, he will still, personally, fulfill promises he made to Ndi Anambra during the campaigns.
Okonkwo gave the assurance Sunday at the Blessed Iwene Tansi Catholic Church, Umudioka, where he had gone with members of his campaign team for a thanksgiving mass.
Addressing the church, Okonkwo said his resolve to work for the good of Anambra state has been strengthened by the support he got from the people during the campaigns.
According to him, touring the 21 local government areas of the state, beginning with campaigns for the June 26 primary election of the Peoples Democratic Party (PDP), and later for the November 6 election, brought him home to the reality of the developmental challenges of the state.
Calling on Anambra people to support Prof. Charles Soludo, the governor-elect, with prayers, Dr, Okonkwo said there is much work to do to impact on the lives of the people.
He also prayed that God will bless the governor-elect with divine wisdom to enable him lead the state into a new era.
READ ALSO: Army Spokesman Disowns Publication, Says Soldiers Loyalty To Buhari Not In Doubt
"I have come here today and, in your midst, to ask you to join me to thank the Almighty God for leading us through the campaigns peacefully. It was a tough call. We faced challenges of insecurity. It affected our campaigns. People were scared. But God saw us through. We had no losses. So, since we handed this journey to the hands of God when we took off, it is proper that we return here to thank him for seeing us through.
"Like I said during the campaigns, I did not get involved in the race for personal benefits. I am satisfied with God has blessed me with. I got involved for the good of our state. Remember also that I had prayed at the outset that if it was the will of God to use me for the task ahead, I was ready. I had also prayed that if it was not the will of God for me, then, God should assign someone else. Now, we have a governor-elect, I urge you all to support him with prayers. There is a lot of work to be done and I pray that God will bless him with wisdom and strength for the work ahead.
"So, outcome of the election has not changed anything. I will still do for Ndi Anambra those things that I promised to do for them and that are within my capacity", Okonkwo said.
Delivering a sermon during the thanksgiving mass, Rev. Fr. Emmanuel Obimma, also known as Fr. Ebube Muonso, said that Okonkwo's faith has challenged him greatly.
According to him, it was rare to see a politician who lost a major election return to give thanks to God.
"This is not something you see regularly. Many who lose major elections will rather bemoan their loses and even blame God. But here we are with Dr. Obiora Okonkwo, who not minding the outcome is in church with his campaign team to thank God. In fact, his faith in God has increased my faith", he said.
Fr. Obimma was later joined by other co-celebrating priests to offer special prayers for Dr. Okonkwo, his family and all members of his campaign team.