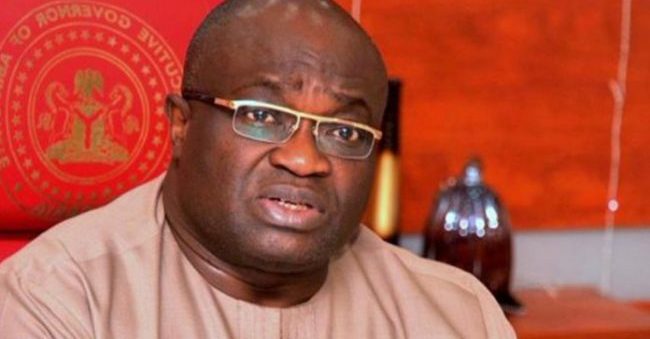 The long neglected Umuahia South of Abia State is to receive attention as Governor Okezie Ikpeazu has resolved to construct more access roads in the area.
The governor said Umuahia had remained virtually undeveloped nearly three decades after the creation of Abia, because it is surrounded by another local government which is Umuahia South.
Ikpeazu said the construction of more access roads into Umuahia, the state capital, would boost economic developments in the state.
The governor who was a guest at the Forum of the News Agency of Nigeria (NAN) Forum in Abuja, said: "I have a trump card; and that trump card is in terms of ventilating Umuahia.''
"Many people may not have talked about it because the more access way you open from Umuahia South, the more accessible the capital city becomes and that is what we are doing.
"Geographically, Umuahia North is surrounded by another local government called Umuahia South.
"And if you come from the Umuokpara axis where you arrive Umuahia through Owerri, the entire area there is Umuahia South down through Ohiya, Ogbodi and you come to Ubakala and Nsirimo and Olokoro among others.

Read also: TCN warns of blackout in Lagos
"All those areas are Umuahia South. So, the strategy to develop and add air and ventilate Umuahia should start from opening roads in Umuahia South.''
The governor stressed that his administration was committed to ventilating Umuahia, by opening up and rehabilitating roads to boost the economic energy of the state.
According to him, that would create more business channels in its hub of small and medium scale enterprises in Nigeria as Abia is popularly known for leather works, shoes, bags and garment industries.
He said one of the cardinal points of his administration was to leverage on the comparative advantage of the capital city to give access roads to other parts of the state and outside the state.
The governor said his administration was committed to giving people of the state a meaningful and secured life.
He attributed the closure of the two major companies in the state, Golden Guinea Breweries and Modern Ceramics, to the inaccessibility of the roads in the city centre.
"And whatever you do within the city centre without necessarily opening access roads from the surrounding local government would not impact on the city.
"The two major companies, Modern Ceramics and Golden Guinea, had gone down for many years.
"However, something is happening about Golden Guinea for starters; the issue of Modern Ceramics is still being discussed and may be in future we will be able to get down to that too.''
Ikpeazu expressed optimism that with the opening up of the roads and private sector investment in Golden Guinea, the Gross Domestic Product of the state would increase. (NAN)