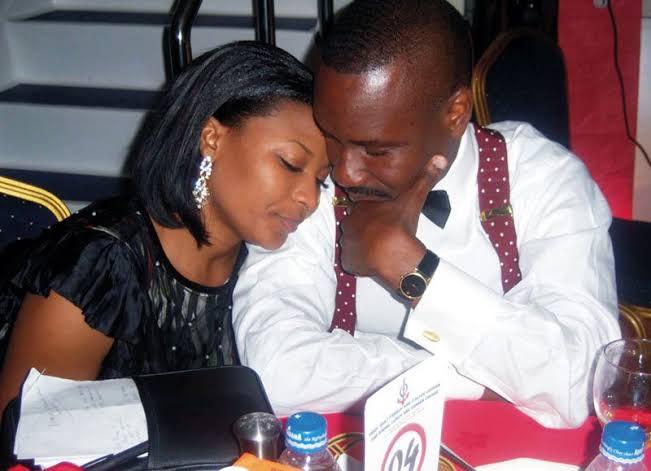 The remains of Mrs Ibidun Ighodalo, wife of Pastor Ituah Ighodalo, founder of Trinity House Church, Victoria Island, Lagos, were laid to rest on Saturday, June 20, 2020.
It was a very emotional experience for members of her family and friends who had the opportunity to witness the final funeral service of Pretty Ibidun, a former beauty queen and CEO of Elizabeth R, an event management company.
Everyone was in pensive mood as they watched the proceedings of the funeral in total dismay. Tears and emotions flowed freely as Ibidunni's coffin decked with Trinity House emblem remained in their midst.
She was buried at the Vaults and Gardens cemetery in Lagos state.
When the news of her demise filtered in, one of her friends, TY Bello, a popular photographer and musician, had revealed the content of her conversation with Ibidun a few hours before she passed on.
Ibidun had told her "It's my 40th birthday next month and I want to help 40 couples to have their babies…I just want to make 40 homes happy."
READ ALSO: Ibidun, I Love You, Pastor Ituah Ighodalo Tells His Late Wife
This dream was not fulfilled during her lifetime, but it would be translated to reality in no time.
This was confirmed by Mrs Adedayo Richards, the coordinator for the Ibidunni Ighodalo Foundation (IIF), an outfit that provides assistance for couples that require fertility treatments. During her tribute to her boss at the funeral, she said the organization would carry on with her legacy.
"Ibidun sought to help as many couples that came her way. This burden she carried until death. In order to preserve her legacy, we will continue the work she has started," Richards added in tears.
"We'll continue the work she has started. We will sponsor many more couples for IVF treatments. Details on how applications will be received will be published on media platforms.
"Late last year, she called me and said she would like to sponsor 40 couples for her 40th birthday. This is what she would have wanted and this is what we will do her honour."
May her soul continue to rest in peace.